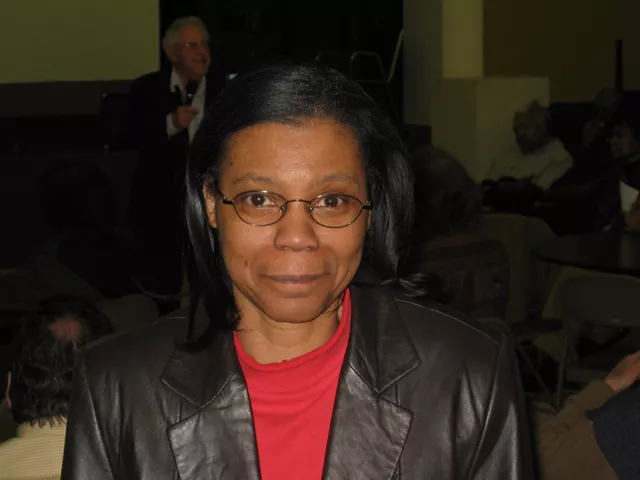 Occasionally, the doom and gloomers here at News Hits witness something that actually gives us hope.
Friday evening at Central United Methodist Church in downtown Detroit was one of those times. What we saw was a room full of people ready to fight.
Actually, most in the crowd have been engaged in the good fight for a long time now. What's changing are the conditions around them, with the attacks on working people and the poor gaining steam — from the efforts to curtail the collective bargaining rights of public employees in Wisconsin to Michigan Gov. Rick Snyder's plan to tax pensions and slash school funding at the same time he wants to cut taxes on businesses.
Complacency is a hard thing to shake. As long as the threat is to others instead of ourselves, a lot of people are willing to turn a blind eye to problems and go along with the program. But when it is your job that has been lost, or your home that is being foreclosed on, then the motivation to fight back becomes intense.
A lack of intensity wasn't an issue at the landmark church last week, where several dozen people attended a fundraising event for Vanessa Fluker, a local attorney who has long been focused on the fight to keep people from losing their homes to foreclosure.
Now, it might strike many as odd that any attorney is in need of funds. But Fluker's clients aren't typically the well-heeled. As she told a congressional committee not long ago, the majority of the people coming to her for help are the working poor, minorities and the elderly.
Fluker, in fact, twice testified before a congressional committee last year to help the lawmakers on Capitol Hill better understand the ongoing foreclosure crisis, and why their attempts to stem it aren't working.
Especially in this region. In 2010, metro Detroit had third highest foreclosure rate in the United States. A total of more than 43,000 homes in the region were taken from their owners by lenders, an increase of 19 percent over 2009.
Which makes people like Vanessa Fluker indispensable.
But now she is struggling to deal with a $12,200 penalty imposed on her by Wayne County Circuit Court Judge Robert Colombo (insert appropriate booing and hissing here).
A foreclosure case that Fluker took on was bouncing back and forth between district and circuit court as she fought to keep her client from becoming homeless. The client, who at first represented herself in court, faced eviction but continued to put her monthly mortgage payment into an escrow account as she disputed the terms of her loan. Colombo had already heard the case once, but it came before him again when Fluker found a new avenue to pursue. The Center for Community Justice and Advocacy, a nonprofit community organization based in Detroit, had filed a Fair Housing Act complaint against her client's lender, RBS Services. That complaint cited Fluker's client as an example of the bank's alleged discrimination.
The evidence cited in the complaint provided a new defense that, Fluker argued, should allow her client to remain in the home until the issue was resolved.
Unable to convince a District Court judge, she again ended up in front of Colombo in Circuit Court. It would be one thing if the judge had just ruled in favor of the bank. But he did more than that — he fined Fluker $12,200 for presenting him with a "vexatious appeal."
He considered the action frivolous, and dropped the hammer. Fluker, with Jerome Goldberg as her attorney, is appealing the sanction. For that to happen, though, she has to post a bond that's one-and-a-half times the amount of the fine, so she needs to come up with more than $18,000.
Which she doesn't have.
Friday's event kicked off the effort to help her raise the money. As church pastor the Rev. Ed Rowe noted, one of the hallmarks of the progressive community is its ability to come together in a time of need and show those "who fight for us that we have their back" when trouble comes there way
Some heavy hitters stepped up.
U.S. Rep. John Conyers, formerly chair of the House Judiciary Committee, told the crowd how effective and impressive Fluker was when she traveled to D.C. to testify about the foreclosure crisis.
"She amazed our judiciary staff with her understanding, knowledge and fierce commitment to what she does," he said.
But then he enlarged the picture, describing the sanctions against Fluker as a catalytic event, saying Friday's gathering was "emblematic" of what needs to be taking place, not just in Detroit but also around the country.
"We have to organize and fight back," he said. "This is the final straw that has broken the camel's back," he said.
At first we thought that amounted to little more than the kind of hyperbole we're used to hearing from politicians. But who knows? Look what happened when one woman by the name of Rosa Parks refused to give up her seat on a bus.
A single person confronting injustice can be a powerful symbol.
But symbolism alone accomplishes nothing. Others have to be inspired to act.
"There's not going to be any hero riding in," said Conyers. "We are going to have to do it ourselves. There's no other way out."
Which means organizing. To that end, Conyers promised to hold fundraisers in Washington, D.C., and New York City. Once the money needed to help Fluker is raised, the surplus will be used to begin to organize a new movement.
Conyers was followed by Goldberg, who gave a fist-pumping speech as he railed against both the sanctions imposed on Fluker — citing the "chilling effect" it will have on attorneys fighting foreclosures who might fear providing a vigorous defense of their clients — and the insanity of a system where federally backed loan guarantees end up being an incentive for banks to drive people from their homes.
Why should banks modify a mortgage when taxpayer dollars will provide full reimbursement after a house is taken and then sold for pennies on the dollar?
"It is important to understand that we are foreclosing on ourselves," he said.
Fluker and Goldberg are both driving forces behind the group Moratorium Now!, which has long been trying to put a temporary halt to foreclosures. The group will soon be going before the Wayne County Board of Commissioners in an attempt to help get them on board, and possibly start a trend here that they hope would spread across the country.
Their hope is that in this place, where the suffering is so intense and has been going on for so long, the tide will begin to turn.
Are you ready to engage in that struggle?
If so, you can begin by helping Vanessa Fluker.
A check to the Vanessa G. Fluker Appeal Fund can be sent to 2920 E. Jefferson Ave., Ste. 101, Detroit, MI 48207. Info about Moratorium Now! can be obtained by calling 313-680-5008 or going to the group's website: moratorium-mi.org.