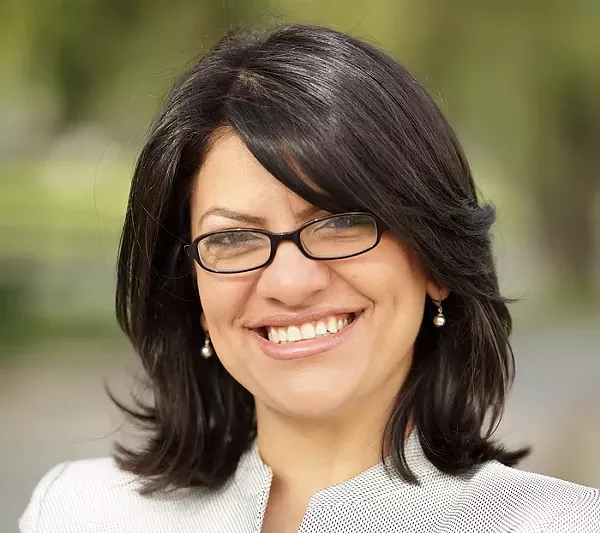 There aren't many lobbies that push around American lawmakers quite like that working on behalf of Israel. And even though there's
waning public American support
for the U.S.'s strongest Middle East ally as its brutal occupation of the Palestinian territories drags on for decades, few American politicians are willing to stand up to its intense lobbying arms.
Michigan Democratic U.S. Rep.-elect Rashida Tlaib will be among the first.
In an interview with
The Intercept
published on Monday, Tlaib — who will be the nation's first Palestinian-American in Congress — announced that she'd lead a congressional delegation to the Israeli-occupied West Bank. Beyond that, she's vocally supporting Boycott, Divestment, and Sanctions, an international boycott campaign known as "BDS" that seeks to pushback against Israeli oppression of Palestinians.
In regards to BDS, Tlaib told
The Intercept
the boycotts are a way to shine a light on "issues like the racism and the international human rights violations by Israel right now." Her announcement of support for BDS comes after Democratic Rep.-elect Ilhan Omar in Minnesota publicly stated her support for it several weeks ago.
Tlaib and Omar will be the first Muslim women in congress, and their public support for BDS led to
fierce criticism
from the
Israeli lobby
.
S
ome in the media
are
braying
about
anti-Semitism
, but Tlaib and Omar are
also critical
of
Saudi Arabia
, a Muslim nation, over its human rights abuses. As
some have asked
, does that make the two Muslim women Islamaphobes?
Tlaib's also skipping a junket trip to Israel sponsored by the American Israel Public Affairs Committee, a pro-Israeli lobbying group. As
The Intercept
wrote of the trip:
The AIPAC trips are among the lesser-known traditions for freshman members of Congress. They're typically scheduled during the first August recess in every legislative session and feature a weeklong tour of Israel and meetings with leading Israeli figures in business, government, and the military. Both critics and proponents of the AIPAC freshmen trip say the endeavor is incredibly influential, providing House members with a distinctly pro-Israel viewpoint on complex controversies in the region.

According to an analysis by
The Intercept
, AIPAC spent $12.9 million on trips to Israel for 363 lawmakers and 657 congressional staff members over the last decade.
The outlet notes the trips appear to have some sway and are partly responsible for the near universal support for Israel in Congress.
Human rights activists contend that AIPAC's trips are a major factor in tilting the scales in Washington, D.C. toward policies that reflect the interests of the Israeli government over Palestinians, helping policymakers to disregard Israel's continued occupation of the West Bank, its settlements, and its military strikes against the Gaza Strip.

AIPAC has flexed its muscle in Congress and with the Trump administration to press for increased military aid to Israel and limit financial support to Palestinians, roll back former President Barack Obama's nuclear deal with Iran, and pass new laws to criminalize participation in the BDS movement, which calls for an end to Israel's occupation, equality for Palestinian citizens of Israel, and the right of return for Palestinian refugees kicked out of Israel in 1948. Under the Trump administration, key AIPAC priorities have become U.S. policy: moving the U.S. embassy from Tel Aviv to Jerusalem and backing out of the Iran deal.
Stay on top of Detroit news and views. Sign up for our weekly issue newsletter delivered each Wednesday.