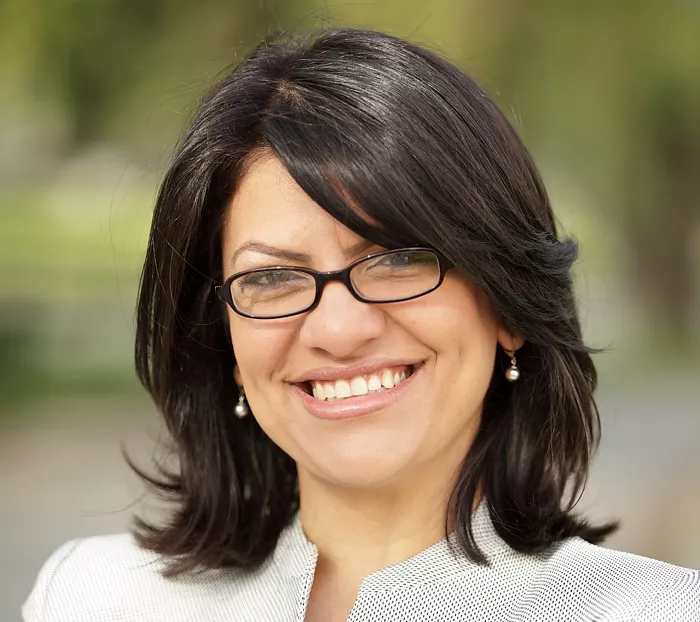 Rashida Tlaib has been a force inside the state House of Representatives since winning her bid for the 6th District seat in 2008, including the recent successful push to increase regulations on scrap yards. The first Muslim woman to serve in the state legislature, Tlaib says her experience growing up as the eldest of 14 children in her family prepared her for the experience of holding political office. A lifelong Detroiter known to take the extra step and show up on a constituent's doorstep and personally ask how she can help them, Tlaib, 37, is gearing up for a run at her district's open Senate seat this fall.
Metro Times: So, 14 kids. What's it like growing up in a family that large?
Rashida Tlaib: [laughs] You know, I was the third parent growing up, and it did make me a very overly responsible adult. I'm constantly working, and I've earned everything that I've been able to achieve on my own, and that's what being the eldest of 14 taught me. … I think every constituent's issue that I've had to deal with for my residents, at some point, I've dealt with [through] my brothers and sisters. [Because I'm the eldest] … I am usually the first call they make, especially since both of my parents are immigrants from Palestine. My dad grew up in Nicaragua in his teenage years then immigrated to the United States. … Yeah, now, looking back, it's been a blessing because it has really prepared me for what I'm doing now. [Politics is] something that I didn't plan on doing, but I am doing it, and when a resident comes in, I'm like, "Oh, that's what my sister had to deal with." Maybe spousal issues, maybe mental illness, just you name it, my family has prepared me for it.
MT: Where did you go to school? You're a lawyer, right?
Tlaib: Yeah. So, I went to Detroit Public Schools, Harms Elementary, Bennett, which is now called Phoenix Academy. This is all in Southwest Detroit. I graduated from Southwestern High School, so I'm a "Prospector," which is what we used to call each other. I went to Wayne State University, and then got enrolled in law school after a year of getting my bachelor's because I had to work, and so there was a program at Cooley Law, it's called the Weekend Student Program, where you worked Monday through Friday and you took classes on Saturday and Sunday and that's before they had all the satellite campuses that they do now. So I would commute up on Saturday mornings and stay up here, depending on the weather and take another two classes on Sunday, drive back and go to work Monday through Friday then start all over again.
MT: That's some serious work ethic. What got you interested in politics then?
Tlaib: Steve Tobocman … I met Steve through that, and when he became House Floor Leader, he asked me to work for him. Two months in he said, "What are you going to do in two years?" I said, "I'm going to go back to the nonprofit sector, because I really miss it. It's a bunch of sellouts here and I really can't stand it." [laughs] He said, "Well, you should run for my seat," and I said, "No way!" Months and months later, literally 10 days before the filing deadline, I decided to run in 2008 with no name recognition, never ran an office before.
MT: What's the difference this time around now that you're running for state Senate?
Tlaib: Yeah, it's different, primarily, because I've chosen … to run against an [incumbent, Sen. Virgil Smith]. … Honestly, if my residents didn't ask me to do it, and literally some of them begging me, I wouldn't have done it because it's that much work. It's more work when you run against a person with that kind of name recognition. At the same time, what gives me hope is that if I get some people and they understand that they're going to get more from me, versus the current service center, they're going to get 10 times more than what they're getting now. … When residents call and they hit a wall, it won't take a bill to fix that, to take down that wall. It takes calling a federal organization myself or getting out there and elevating their voices at a zoning hearing. So I go way beyond what people typically expect a state legislator.
MT: On what's happening in Detroit, what do you think of the current restructuring happening? What's your overall sentiment on the bankruptcy proceeding?
Tlaib: Well, I'll tell you: I've been struggling with trying to not get angry that we're in bankruptcy right now. Really, because I thought we were far from having to go to bankruptcy. I'm really committed to getting out of bankruptcy as quickly as possible and getting the emergency manager out of our town, because we can't do anything, not one thing, without clearance from the governor's office. I mean, people say EM, but it's really the governor's office that's running our city right now. Taking away that local control, it really diminishes city service delivery, it diminishes our ability to react. For instance, if we wanted to talk about the [Detroit Red Wings] stadium issue, if we wanted to hold back the land transfer until we get some comprehensive community benefits agreement from Olympia Entertainment. You know, the council said to me, "We can vote it down, but the EM can approve it anyway." That, to me, is very dangerous.
MT: The state has a $1 billion budget surplus. What would you like to see done with it?
Tlaib: I'll tell you. My dream, that I'm trying to get some traction … for 12 years we haven't had an increase in the school aid for at-risk youth. And this would have a statewide impact, not just Detroit. It would be wonderful to look into that and invest in education and invest in school districts to help our kids thrive, because, right now, having 50 schools in a deficit is just wrong, especially when we have one of the largest rainy-day funds in the country. … We need to be able to take that surplus and invest it in our kids.