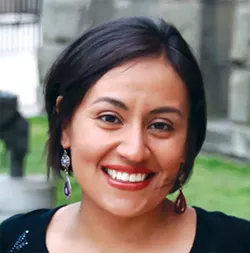 Raquel Castañeda-López is a lively, talkative person whose fast-paced speech attests to a nimble mind. Returning our call the same day we inquired, the councilwoman-elect said she appreciated the way we got in touch with her media person — unlike some other newshounds.

"Some people just came to my house!" she said, with a laugh. "I had to tell them, 'Please don't do that again!' My sisters were like, 'What are all these people doing at our house?'"

The 31-year-old is a lifelong resident of her district and the child of working-class parents. She seems to be precisely the sort of candidate district voting was meant to attract: a person whose passion is community service and who doesn't seem to have an opportunistic bone in her body. In an election full of many historic firsts, Castañeda-López is the first woman of Latin American heritage to win a seat in the chamber.
Metro Times: How did you celebrate your victory?

Raquel Castañeda-López: We were going to have a gathering anyway, after we wound things up at the campaign office. We went to a local restaurant, Taqueria El Nacimiento, and watched the results come in. We ate food and hung out, and then once I found out we were going to win, we celebrated together, volunteers, family, everybody all around.
MT: What's the first thing on your task list following this election?

Castañeda-López: Right now, I'm focusing on personal issues, like spending time with my family and getting my life back in order. I haven't been able to do much besides campaign, so I'm just doing "regular people things" for the rest of the week. [laughs] But soon I'll start meeting one-on-one with the colleagues I'll be working with on Council, reading over the Detroit Future City plan, going over Orr's plan again, and looking into making my mobile office a reality.
MT: I had heard about that. Can you explain what a mobile office is?

Castañeda-López: The district is so large that my hope from the beginning was for a truck that goes from neighborhood to neighborhood, visiting different communities week to week, so we can stay involved in what's going on, supporting community leaders in their efforts. We still need to set up hours and schedules for this.
MT: Yes, not everybody can go down to City Hall. It's an interesting idea. Has this ever been done before?

Castañeda-López: I don't know. I haven't researched other public officials, but before I was going to run for office, I had considered starting a business like a food truck, then an actual business that has a mobile office and moves around. Now I'm taking that idea and adopting it for constituent services.
MT: The idea of a councilperson representing Southwest Detroit and traveling around like a food truck has a certain unusual appeal!

Castañeda-López: [laughs] Yes, but of course the district is so huge, and a lot of seniors with mobility issues don't have access to services. But this will help keep me out in the community and stay true to the mission to really help people at ground level.
MT: How do you plan to fulfill the responsibilities of your office in the face of Detroit being under an emergency manager?

Castañeda-López: A lot of our basic questions involve quality of life. Given my background in community organizing, I know that regardless of how much authority I have over, say, the city budget, being a community liaison is something I can do, certainly by increasing people's access to information and resources.
MT: You've lived in the district your entire life, right?

Castañeda-López: I went out of state for undergrad, and I also went to Ann Arbor for school, but I would also come back and forth all the time.
MT: And I'm aware you work with a lot of community organizations, such as the Hispanic Latino Commission and the Clark Park Coalition Board.

Castañeda-López: Yes, and I also work as a soccer coach, and at Wayne State University's Center for Latin American Studies, as well as working for several nonprofits. I have worked with the Springwells Village College Access Network, promoting access to education in general. I interned at Sen. Steve Tobocman's office while completing my Master's in social work, and ran Sen. Rashida Tlaib's successful campaign in 2008.
MT: We've always enjoyed Rashida Tlaib's spirit, her willingness to take on powerful entities in the interests of her constituents. You seem to be the perfect candidate for this new district voting thing: embedded in the community, a progressive fighter for the people.

Castañeda-López: [laughs] The funny thing is, I hadn't thought of running at all; it didn't even cross my mind. I volunteered on the council district campaign when we first began pushing it, and at the beginning of May I had to decide if I would run, because the signatures were due by May 17. What happened was that neighbors of mine and community leaders all encouraged me to step up and take on the role. I was convinced that the community needs to have somebody familiar with the challenges in that community representing that community. But district voting wasn't the reason I ran.
MT: Some of us had been concerned, wondering if district voting would bring a new crop of community-based leaders, or would it be exploited by opportunistic politicians.

Castañeda-López: I grew up here. It's my home. And I'm not a typical politician. So those thoughts didn't run through my mind, although maybe they should have! [laughs]
MT: In addition to helping provide information and services to your constituents, what special problems or needs do you hope to address in your district?

Castañeda-López: I think you a lot of the problems are general problems for the city. People want to live in healthy, safe communities. There are some things specific to southwest Detroit, such as transportation, environmental health, immigration issues, but basically people just want better quality of life. We can do grassroots work helping to mitigate some of those problems, and then we can develop ordinances and policies to help deal with those issues, instead of saying, "I think this is a good idea because they're doing this in Chicago." So constituent services will feed into policy. Southwest has the highest rate of poverty, the lowest high school graduation rates, and it has blight, like a lot of other neighborhoods that were left behind. But the council by district system will help address the issue of giving people somebody they can go to directly. It helps so much to have a point person to talk to and get questions answered by an actual person instead of, say, an automated system. My hope is to work in partnership with our senators at the state level to improve quality of life in the neighborhood. We can always improve. Even if we're doing great, we can do better.

DISTRICT 6

POPULATION & VOTING DATA
Total District Population: 106,407
Voting Population ( >18 ): 76,507 (78.7%)
Voter Turnout: 11.1%
Percentage of Vote Won: 57%

RACE & ETHNICITY
Hispanic: 41,328
Non-Hispanic White: 19,369
Non-Hispanic African American: 41,580
Other: 4,130

INCOME & POVERTY
Per Capita Income: $13,114
Percent of Households in Poverty: 38%

EDUCATIONAL ATTAINMENT
Percent without High School Diploma: 37.3%
Percent with High School Diploma: 31.8%
Percent with Some College: 18.2%
Percent with Associate's Degree: 3.7%
Percent with Bachelor's Degree: 5.1%
Percent with Master's Degree or Greater: 3.9%