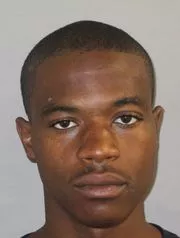 A rally will be held Thursday evening by residents and faith leaders who say they want answers in the case of Terrance Kellom, who died last month after an immigration officer shot the 20-year-old inside his Detroit home during a raid.
Organizers say Terrance's father, Kevin — who wholly disputes the official account of the incident,
asserting Kellom didn't brandish a hammer and approach the officer
, as police have said — is expected to speak. In addition, the family's attorney, Kari Mitchell, will provide updates on the case.
It's been seven weeks since Kellom's death, and the investigation into the incident by Wayne County Prosecutor Kym Worthy remains ongoing. Worthy sealed the autopsy conducted on Kellom; meanwhile, Detroit police haven't revealed the outcome of its own investigation. The U.S. Immigrations and Customs Enforcement (ICE) hasn't offered comment.
The incident that led to Kellom's death began after a multi-jurisdictional task force — known as the Detroit Fugitive Apprehension Team (DFAT) — executed a search warrant on his home in Detroit's west side. The task force includes members of the U.S. Marshals Service, Detroit Police Department, Wayne County Sheriff's Office, the U.S. Immigrations and Customs Enforcement (ICE), and the Oakland County Sheriff's Office.
The Wayne County Prosecutor's Office has said a warrant for Terrance Kellom's arrest for armed robbery was signed on April 2. Kellom allegedly robbed a pizza delivery man on March 31 using a rifle, the prosecutor's office said.
"We had evidence beyond a reasonable doubt to charge Kellom," spokeswoman Maria Miller previously told
MT
. Generally, he police must have exigent circumstances to arrest a suspect in a home, she said. But, she added, the incident that lead police to his father's house and the circumstances leading to the officers entering the home is currently under investigation.
During the raid, police say Kellom was shot after he approached ICE agent Mitchell Quinn with a hammer —
at least once in the back, according to the family's attorney
. But according to Kevin Kellom, his son was unarmed.
What's more, Kevin Kellom said the shooting happened around 1:40 p.m., but the search warrant left at his home was signed at 4:35 p.m.
"They made that search warrant after they assassinated my son," Kellom said in April.
The American Civil Liberties Union and a coalition of groups have since called for Detroit to
suspend the use of the task force
, pending the investigation into Kellom's death.
The rally will take place at 7 p.m. inside the Christian United Church of Detroit, located at 19510 W. Chicago.