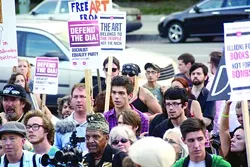 At the grand opening of the Detroit Institute of Arts in 1927, museum director William Valentiner said the gallery was for "all us Detroiters, rich and poor, high and low. The beauties of art are as essential in the life of a community as are the material comforts and modern facilities and improvements." When Edsel Ford commissioned Diego Rivera to paint murals for the Detroit Institute of Arts back in 1932, he wasn't thinking they might be sold in 2013 to pay for pensions.
It's that notion of collective ownership among all Detroiters that brought the Socialist Equality Party to the front steps of the DIA on Friday, Oct. 4. A statement released by the group said, in part, "If art is to be defended, it is the working class that must come to its defense, and preventing the looting of these treasures is of the highest importance for every worker and young person."
More than 500 people showed up to demonstrate their support, including students and employees from Wayne State University and the College for Creative Studies, city workers, artists, museum professionals, parents and their children, and a group of people representing the Griswold Tenants Association. Every city bus, along with most commuters driving by, honked their horns in solidarity.
At the rally, "Kim," a longtime employee at the DIA who requested her last name be withheld because of the sensitive nature of the story, expressed gratitude for the show of support.
"As someone who works here and has dedicated their life to working here and to protecting this art, it's really heartwarming to see these people out here en masse standing up for us," she said. "Seems like we haven't had a lot of people doing that politically or otherwise. … I wanted to cry at one point. We can't necessarily directly participate but we're still out here in support. It means a lot."
The rally comes on the heels of Emergency Financial Manager Kevyn Orr's latest threats made against the museum at a recent Detroit Economic Club luncheon. "Think of this," he said, according to accounts in both the Detroit Free Press and The Detroit News. "I've got to rationalize pensions and health care … there may be your fellow citizens who have to eat cat food and I've got this great collection over here but can't touch it."
Orr continued, "Everything is on the table. I have a fiduciary responsibility to account for all of the assets of the city of Detroit and foremost among them might be the DIA."
Many ethical guidelines for deaccessioning (the process of disposing, selling or trading objects from a museum collection) require that the funds generated by disposing of collection items be used only to increase or maintain the remaining collection. For example, the International Council of Museums (ICOM) Code of Ethics states:
"Money or compensation received from the deaccessioning and disposal of objects and specimens from a museum collection should be used solely for the benefit of the collection and usually for acquisitions to that same collection."
In general, art and objects are supposed to be sold only to finance acquisitions, though different museums are governed by different standards. Art museums, regulated by a formal code of the Association of Art Museum Directors, may not sell items for any other reason.
"To sell off artwork to pay for a city's general debt is unconscionable," says Kathleen Bernhardt, an art dealer in Chicago. "It's a short-term sell-off of a magnificent part of their heritage."
Kelly Johnston photographs for the Metro Times. Send comments to [email protected]