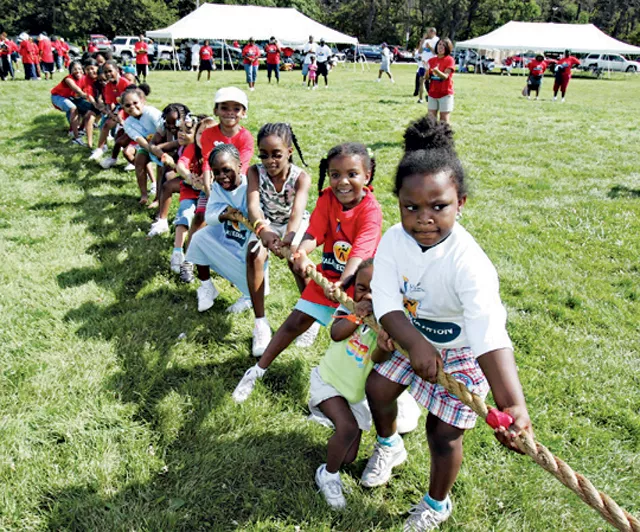 The Motor City Blight Busters, a nonprofit organization in the Old Redford neighborhood of Detroit, has bought seven houses it plans to demolish in order to create a community garden. Those demolitions will be the centerpiece of the group's efforts on Saturday as neighborhood groups across the city observe Neighborhoods Day.
Neighborhoods Day, the brainchild of ARISE Detroit!, and its director Luther Keith, seeks to highlight community service in the city. This year's event will be the biggest of its six years, with 200 events and thousands of volunteers doing what their organizations mostly do quietly in neighborhoods year-round.
"This year has taken a quantum leap," Keith says. "We have more sponsorships than we've ever had. It's grown literally right out of the streets of the city."
Neighborhoods Day events run the gamut from cleanups around schools and home renovations, to baseball, golf, soccer and boxing tournaments, public art projects, health fairs and environmental projects. Some 30 churches and mosques, the Buffalo Soldiers Motorcycle Club, the Belle Air Theater, Cobo Cleaners, Marygrove College and many others are involved. Even attorney Jamouna Kayrouz, whose billboard and bus-side advertising seems ubiquitous around the city, is pitching in with her staff to do service at Beckham Academy Public School. You can get more information on events near you, and there will be something near you, at arisedetroit.org or call 313-921-1955.
"If Detroit is so without hope, so without any future, why are these people doing this?" Keith asks. "These are the people who truly have not given up. These are the stayers; these are the fighters. They know that, with the condition the city is in, there's not a lot of hope out there. They need the help that comes from helping themselves. Even in neighborhoods without a lot of resources, that creates the energy that draws folks together. What we have is a message to encourage people to get involved."
The Motor City Blight Busters has been involved with improving Detroit for 24 years — clearing away debris, demolishing run-down houses, fixing up others and rehabbing buildings clustered around the Redford Theater, where it supports the Artists Village and the Motor City Java House. It's also supported urban gardening recently, and the six houses it plans on demolishing this year are the first step in an ambitious plan to create the two-acre Farm City Detroit. It's an outgrowth of its partnership with the Fertile Ground collective and Detroit Arts City.
"There are many, many groups that work on these projects," says John George of Blight Busters. "Our goal is not just to clean up the city, but to really create a community where we can turn a liability into an asset."
That's how urban gardening works. Vacant lots and empty houses are a draw for crime, dumping grounds for unscrupulous individuals and an eyesore in the community. But it doesn't take much to turn those negatives into a net positive with a community garden. They've already done that with two lots where crack houses once stood to create the Royal Garden, a community space where they grow food but also have a barbwcue pit, tables and benches. The wood used to build a fence around the garden and the raised garden beds is recycled from the crack houses. It demonstrates how you can get things done on slim resources.
"Gardens get people to see what they could do with a space and also to introduce them to growing their own food with the anticipation that they take those skills and do stuff in their own back yards — which they've started to do," says Cofi Royal, the master gardener from Fertile Ground. "It's also a means of bringing the community together in terms of communications and personal exchange. Sometimes people bring their kids in to show them the vegetables and how they grow. The kids play there. Sometimes people just sit and meditate."
The coalition in Old Redford is also focused on young people in the area, paying 15 of them to work on various projects this summer. The Artists Village has a stage where they put on music performances or short plays. It's a positive outlet that beats standing around on the corner waiting for something to happen.
"Urban farming isn't only about food," Royal says. "It's an excellent way of providing a nonprofessional therapeutic endeavor for youth while they develop skills, a counseling modality. It gives us a chance to work with them and kind of develop a relationship. What we want to do with the Farm City is use that site to create an oasis in our community, a family-friendly cross between a park and growing space."
Handyman Ministries, a group that has partnered with Blight Busters in the past, is another Neighborhoods Day participant that will be returning with a big project this year. They're bringing 300 volunteers from General Motors' Electrical Division to do five full-block cleanups, board up 21 houses, and cut down trees and bushes. Neighborhoods Day features similar efforts around 17 city schools.
"Some of those houses are dangerous and an eyesore," says Timothy Addy of Handyman Ministries. "It makes me nervous to walk by them, so you can imagine how the kids feel when they walk by them."
Last year Handyman Ministries rehabbed a full block of houses on Tennessee Street. The action sparked a block club there, and that club has become a participant in Neighborhoods Day. Addy hopes this year's project will help engender something similar around Clark School. The group started the weeklong project on Monday, July 30, and is having a barbecue each day and inviting neighbors to eat for free.
"We will try to get them more involved in the community and encourage them to work with us," Addy says. "That creates relationships within that community. The response from Tennessee Street is more than could be expected."
Handyman Ministries also sponsors a paid tradesman apprenticeship program (handymanministries.com). Young people who are at least 18 years old can apply to the group for the apprenticeship; at the end of it they will have a builders' and contractors' license. In addition, the ministry will give those who complete the program one of the homes they have helped to rehab.
It's a pretty good start in life to have a home, a trade and a sense of belief in and support of the community where you live. At its most basic, that's what ARISE Detroit! and Neighborhoods Day is about in a city that is reeling and where so many have little hope.
"The mayor has told us repeatedly that we are living in an age of finite resources," Keith says. "We need a different model that forces us to be more creative and take on stuff that we wouldn't have taken on 25 years ago. Do something on this day. Come together."
The most important things that will arise on Neighborhoods Day are the hearts and souls of people across the city.
Larry Gabriel is a writer, musician and former editor of Metro Times. Send comments to [email protected].