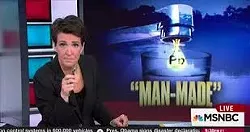 ***UPDATE: Seats are no longer available for the event, so find some friends and watch all the action at home!
MSNBC personality Rachel Maddow — who has
fastidiously
covered
the Flint Water Crisis in recent months — will be holding a town hall Meeting Wednesday evening. The special — "American Disaster: The Crisis in Flint, An MSNBC Town Hall" — will air on the station at 9 PM Wednesday; however, those in the Flint-area can also attend in person if they'd like.
Here are the deets should you fancy attending:
Who:
Rachel Maddow will be moderating a discussion amongst Flint Mayor Karen Weaver, Hurley Medical Center pediatrician who exposed elevated lead levels in children Dr. Mona Hanna-Attisha, Virginia Tech professor behind the Flint Water Study Marc Edwards, investigative journalist from the ACLU-Michigan (and Metro Times alum) Curt Guyette, US Sen. Debbie Stabenow, Flint Journal editor and journalist Brynn Mickle and Ron Fonger, and Detroit Free Press columnist (and Metro Times alum) Nancy Kaffer.
Governor Rick Snyder has been invited, however, he has not confirmed whether or not he will be attending.
The event is open to the public, however, given limited space it is technically "invite" only — get there early to snag an "invite." The public will also have the opportunity to ask questions at the event, though it's unclear how much time will be devoted to that.
What:
"Maddow and members of the Flint community will examine how this man-made water crisis is now a full blown emergency with potentially devastating health effects for thousands and look ahead to potential solutions," reads a statement from MSNBC
Where:
Brownell/Holmes STEM Academy, 6602 Oxley Dr., Flint (Brownell Holmes STEM Academy is one of the three Flint Community Schools that this fall tested for lead levels about federal guidelines).
When:
7 p.m. Wednesday, Jan. 27; however, it is recommended that people arrive at 5:30 p.m. in order to gain entrance.
Sounds like this is going to be one engaging evening.