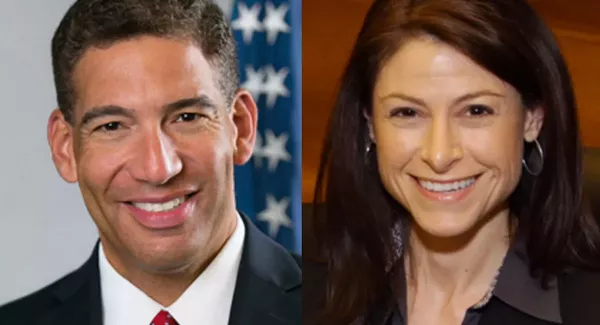 Last month, Dana Nessel, the brilliant and sassy attorney who helped make it legal for same-sex couples to marry and adopt, pulled off one of the most astonishing political upsets in recent history.
This really drove the gay-haters and misogynists crazy, as well as those who think what black voters value is symbolic tokenism.
More on that soon. But first, class, let's take a look at what actually happened at the legendary April 16 Battle of Cobo Hall, otherwise known as the Democratic Party endorsement convention.
The party bosses wanted Patrick Miles, the former U.S. district attorney for the western half of the state, as their nominee for Michigan attorney general. They thought he couldn't lose.
Granted, he was a weak candidate; a poor public speaker who didn't seem to even know what his own positions on some issues were. In fact, he changed his stand on civil asset forfeiture in the course of an interview with Michigan Radio's Lester Graham.
But he was black (though few in Detroit knew it) and that fulfilled an unwritten Democratic Party rule that Thou Shalt Field a Black Candidate for one of the four top offices — governor, lieutenant governor, attorney general, and secretary of state.
Desperate with how weak their man was, the Miles forces resorted to one of the slimiest PR campaigns I've ever seen (and that's saying something), employing an especially odious woman to spread lies about Nessel, some clearly from the Republicans.
The effect of that was debatable; but it was clear to Everyone Who Thought They Were Experts that Pat Miles had the contest won when both the AFL-CIO and the United Auto Workers endorsed him.
"The UAW does not lose," pronounced Bill Ballenger, who has been writing about Michigan politics since he served in the legislature half a century ago. That was once very true.
But today's UAW has one-fourth the membership it once did, and is fighting a widening criminal collusion scandal. The union bosses evidently weren't bothered that Miles works with a law firm that advertises that it can help employers avoid being unionized!
When the convention opened, Flint congressman Dan Kildee added his voice to the chorus endorsing Miles.
If things weren't looking bad enough for Nessel, northern Michigan was hit with the worst snowstorm anyone can remember, dumping more than 20 inches in some places.
Nessel had campaigned hard up north, and was depending on people driving down to vote. The odds were against her...
But when the votes were counted, Nessel had kicked Miles' and the UAW's butts. When they stopped the count so Miles could gracefully concede, she had 55 percent of the vote with only the solidly pro-Nessel northern part of the state remaining to be counted.
Dana Nessel had won an amazing victory.
Yet within hours, some were grumbling that black voters would never support this ticket. Steve Hood, a currently unemployed political consultant in Detroit, wrote a column in the respected online magazine Bridge that reeked of misogyny and, yes, reverse racism.
"Does (the) Michigan Democratic Party really believe it can woo back the Democrats statewide without a single white male on the ticket? Does the party really think it can ignite the minority vote without at least one minority on the ticket?"
"This is a recipe for disaster," he concluded, later labeling Benson, Nessel, and Whitmer "clones of Hillary" and "Hillary-bots."
Well, there's absolutely no doubt that black voters — and all voters — need to be energized, and no doubt Gretchen Whitmer needs to be more visible and better known in Detroit.
But Steve Hood's column was a model of hypocrisy, and here's why. He never mentioned that in most recent elections, Democrats have put black candidates on their statewide tickets as sheer tokens.
Four years ago, Godfrey Dillard wanted to run for attorney general, but party leaders thought a white candidate named Mark Totten had a better chance. So they pushed Dillard into the secretary of state slot ... and gave him little or no support.
He fumed about that, but kept his mouth shut, and, not surprisingly, lost. Democrats have done the same with black candidates for hopeless Michigan Supreme Court races. Twenty years ago, they nominated a candidate for Secretary of State who seemed addled, incoherent, and virtually didn't campaign.
Democratic bosses knew they had no chance to win that year, did nothing to help her, and she performed the remarkable feat of losing every county in the state.
Does Steve Hood think that is a better way to do things? Democrats' mania for ethnic quotas probably cost them the attorney general's office in 2006. Scott Bowen wanted the nomination, and polls showed he had a good shot at beating incumbent Mike Cox, who had barely won four years before.
But that would have left the ticket without a black candidate, so they chose Detroit lawyer Amos Williams instead.
Did Democrats then put a whole lot of effort into his campaign? Did they raise money for him? Did Jennifer Granholm, who was cruising to a landslide win over Dick DeVos, help Williams much?
Did Amos Williams come close to winning?
No, no, no and, ah... that would be no.
However, the good news is this: Black voters, especially in Detroit, are much more sophisticated than Hood gives them credit for.
Want proof? We just had an election for mayor in which the black candidate with the most famous name in black Detroit politics was running against a white guy who grew up in the suburbs.
Coleman Young II even tried to make the election about race. When the votes were counted, a large majority of African-American voters had in fact chosen the white guy.
Black voters these days have moved beyond symbols; they want candidates that can deliver substance.
They want candidates who can energize people — and can win.
Latest from Michigan State: For the last several weeks, it's been sadly and painfully clear that John Engler was the wrong choice for interim president of Michigan State; the bullying tactics that may have worked with a legislator from Allen Park in 1995, say, don't cut it when dealing with women sexually assaulted by an MSU doctor.
The fault, of course, lies largely in Gov. Rick Snyder's refusal to remove every one of the eight members of the Board of Trustees, four from each party. They utterly failed to exercise due diligence during the many months when ex-President Lou Anna K. Simon was failing to deal with the scandal. Then they chose Engler.
There are, certainly, many excellent professors, deans, and even administrators at MSU.
But there also does seem to be a rather pervasive culture of incompetence. Late last month, right after I did a radio commentary bashing Engler's treatment of Nassar victim Kaylee Lorincz, I got a chirpy email from a woman who said she was the assistant director of development for MSU's College of Social Science.
She wanted to know if I would meet her for coffee in Huntington Woods, the town where I live. I was puzzled as to what she wanted... till I realized she was actually trying to hit me up to donate money!
I asked if she knew that I was head of the journalism faculty at Wayne State, or that I wrote columns, or that I did daily public radio commentaries, many of them about her employer?
She hadn't a clue.
However, she did seem to believe I was an alumnus of MSU's College of Social Science — which I've never attended.
Nice training program they must put those folks through!
Stay on top of Detroit news and views. Sign up for our weekly issue newsletter delivered each Wednesday.