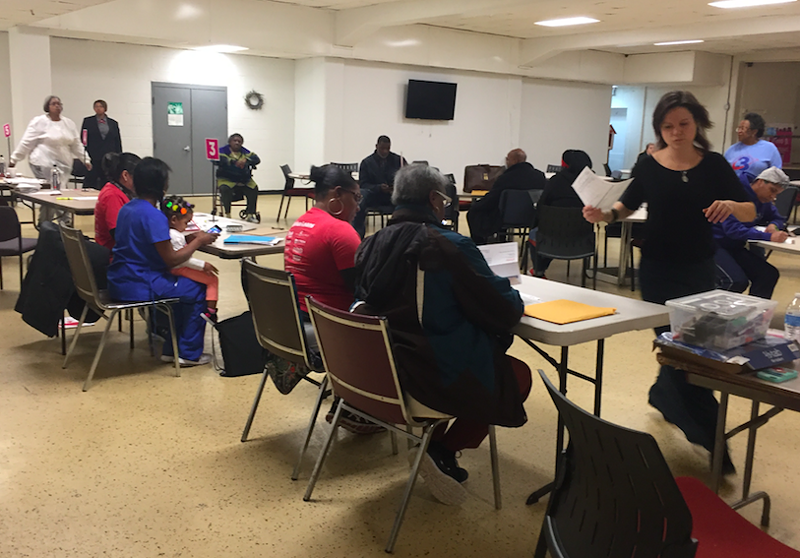 This fall, about two thousand Detroit families and households lost the roofs over their heads due to tax foreclosure.
This occurred for a variety of reasons, but in most cases, the people put out were renters with irresponsible landlords who hadn't paid their tax bills. In other instances, low-income homeowners who would have been eligible for tax exemptions lost their homes because they weren't aware of the help available or hadn't properly filled out the sometimes complicated forms required to get it.
Whatever the cause, it was a continuation of the status quo: Since 2009, Wayne County has foreclosed on an estimated one in four Detroit properties.
With deeds doled out to investors and others who bought the homes for a fraction of their value in the September and October auction this year, another foreclosure cycle begins, and with it, efforts to make contact with people at risk of losing their homes.
But this time, community groups are embarking on an outreach effort that is far more comprehensive than it's been in years past — thanks to a new, $500,000 campaign backed by the Quicken Loans Community Investment Fund (QLCIF).
Through the "Neighbor to Neighbor" effort, QLCIF and the United Community Housing Coalition will partner with about two dozen community groups and nonprofits to reach some 65,000 Detroit households behind on their taxes by yearend. The door knockers will notify homeowners of assistance available and then point them to upcoming workshops where they can get help applying for the programs.
"It's a big deal for us," says Kenyetta Campbell, executive director of the Cody Rouge Community Action Alliance. "In District 7, there's 2,300 [households behind on their taxes], and we've been able to go door to door and invite them to come to the workshop — as opposed to having seniors and such go downtown."
Coordinators add that the involvement of community groups is critical. As opposed to getting information from contractors hired by the Wayne County Treasurer's Office, for instance, at-risk residents are notified by a familiar face with a vested interest in preserving the community.
In past years, these kinds of efforts to help people stave off foreclosure have come in at the last minute, and volunteers have generally only made contact with people who were already two years behind on their taxes (the county forecloses after three years of unpaid bills). This time, the intervention is coming early.
"Our goal is to start getting in front of people as soon as they get behind on their tax bill and letting them know that there are networks of support and that things like the poverty tax exemption exist," Laura Grannemann, the vice president of community investments at Quicken Loans, says. "We're not doing a last minute outreach [in] May."
The money QLCIF has put toward the "Neighbor to Neighbor" program will be used to compensate door knockers and volunteers at the workshops scheduled for December.
Volunteers will focus on informing homeowners about an underutilized property tax-exemption that can reduce or eliminate the tax bill for low-income households. According to Grannemann, only 3,600 Detroit households are currently enrolled in the exemption, when Census data suggests some 40,000 households could be eligible.
The "Neighbor to Neighbor" effort follows a springtime pilot program in which Quicken Loans' community investment fund partnered with UCHC to knock on the doors of 3,300 residents of Detroit homes facing the 2017 tax foreclosure auction. QLCIF says that outreach effort helped residents in 2,100 homes ultimately avoid tax foreclosure.
This year, Quicken Loans also launched a program through which renters at 80 households owned by landlords who failed to pay their taxes were able to buy the homes for as little as $2,500.
If you or someone you know in Detroit is behind on their taxes and seeking assistance, volunteers will be on hand this coming week at the locations below.