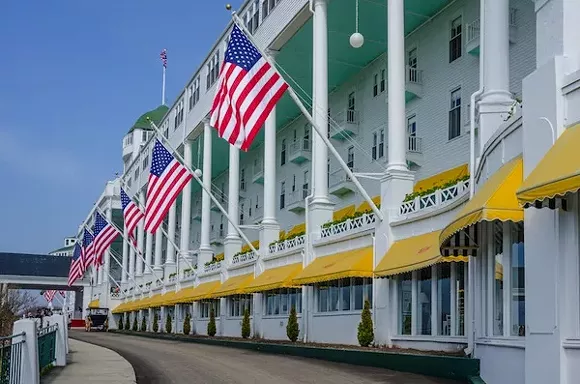 A bill introduced in January would have altered the way Michigan designates historic districts.
The bill, known as H.B. 5232, would have amended Michigan's 1970 law
, making it more difficult to establish a district and having each district expire after 10 years, necessitating a time-consuming and expensive re-designation.
The bill was introduced by Grand Rapids Township's state Rep. Chris Afendoulis, who complained that historic districts limit the property rights of land owners. "They have an un-elected board of people who tell them they can't do it," he said.
Feeling a little whiplash there? You're not alone. Yes, the same state GOP that brought you, over your objections, the
emergency manager law
, and defends it by saying, "
Voters don't have a constitutional right to choose their local government leaders
," is angry about a board that tells the mostly well-to-do residents of historic districts what building materials they may use.
What an outrage, right? Our legislators may not be willing to descend to such mundane matters as fixing the state's roads, or ensuring its residents aren't poisoned with heavy metals, but should a clutch of architecture nerds and draconian preservationists prevent our richest residents from being able to dial 1-800-HANSONS, these solons leap into action.
Or at least they did for a moment. The news this week is that
the bill has been suspended indefinitely
, and has a bleak future, though its sponsor swears to carry on the fight. How did this swift turnabout happen?
The good people at Interlochen Public Radio have one answer
: The changes to the 1970 law would have imperiled the preservation efforts on Mackinac Island, a luxurious resort with a fantastically expensive hotel built in the 1880s. A single room costs more than $500 a night. It is a rich person's playground, and popular with the Wolverine State's monied families.
Perhaps not coincidentally, that island is the site of Michigan's greatest annual political junket: the
Mackinac Policy Conference
. See, once a year, Michigan's political class leaves behind its Lansing fundraisers and takes a break from signing the bills helpful corporate lawyers write for them and head up north to Mackinac Island for a fun-filled weekend of booze, gift bags, and grip-and-grins with the state's power brokers. We've never been, but
we sent the brave Ryan Felton once
.
It kind of makes you think, huh? Sure, it takes a while for our state's legislators to get it right, but, in the end, they understand what their priorities are.