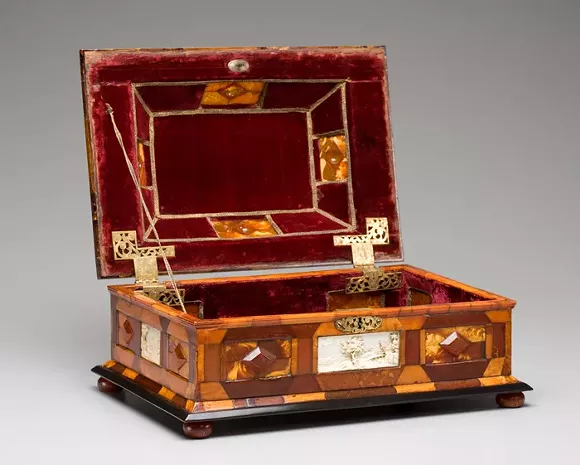 According to
the DIA's latest newsletter
, the museum won't be able to acquire any more objects like this sixteenth-century
amber and ivory casket
shown above anytime soon. That's due to a recent federal crackdown banning the import of ivory intended to protect the slaughter of African elephants. It's a noble goal, but one that bears "unintended consequences for U.S. museums" DIA director Graham Beal says.
Though the law has been in effect since 1989, the Fish and Wildlife Service (FWS) has now been instructed to enforce the ban fully. That means the DIA could not acquire an object like this casket now (they got it in 2008, before the ban was in full-effect, but even then Beal says it took six months to prove to inspectors "that the ivory in our casket could not possibly be linked to the current crisis"). As Beal also points out, the ban also applies to ivory objects on temporary loan to exhibitions — so the museum would not have been able to exhibit the
Michelangelo, the Medici, and Late Renaissance Florence
had this ban been fully enforced several years ago.
Of course, none of this actually does anything to stop the poaching of African elephants. Objects like the casket were created centuries ago (and though ivory trade is permitted if it can be proven that the ivory is antique, or not originated in African elephants, that requires an invasive procedure that involves destroying small pieces of the object to test in a lab). Furthermore, the law only prevents Americans from trading ivory — and it's not like the poachers sell directly to U.S. museums anyway. As pointed out in an
opinion piece for Forbes
, the biggest market for illegal ivory by far is China.
As usual, it seems like it's easier
to target art institutions
than actual criminals. The
Forbes
piece summarized the point nicely:
There are two obvious strategies to fight poaching. The first is to fight poaching. That is, target the bad guys, those illegally killing elephants and selling illicit ivory. Enhance the ability of African governments to protect wildlife, increase the benefits of protecting elephants to local residents, break up smuggling operations, and target dealers in poached ivory. The U.S. government long used this strategy.

The second approach is to play politics. That is, penalize the good guys, those trading in legal older ivory. Doing so wouldn't protect any elephants. It wouldn't prevent additional illicit ivory smuggling. It wouldn't stop people from buying items made from illicit ivory. But it would drive up enforcement statistics and punish ivory owners.

Unfortunately, the administration has decided to do the second.
Read our Face Time interview with DIA director Graham Beal from earlier this year
here
.