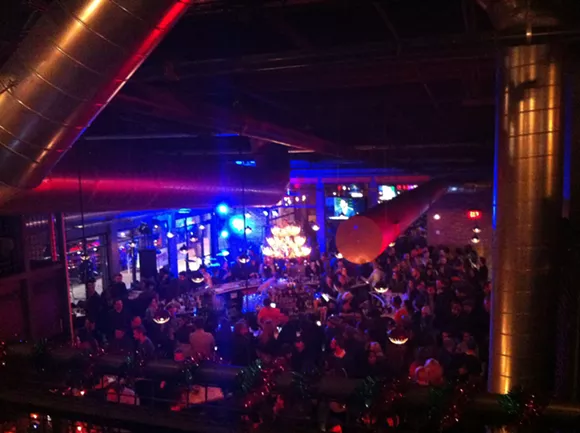 Along Broadway in downtown Detroit, the new Punch Bowl Social covers a serious amount of real estate. Really, it's huge. That's the first thing we noticed upon arriving early Wednesday evening for the opening of the new "gastro diner".
With 24,000 square feet spanning two floors in the Z Garage between Gratiot and East Grand River, the so-called adult playground can seat 1,000 people. Punch Bowl has four bars, craft cocktails, a diverse menu, and plenty of entertainment — arcade games, ping-pong tables, darts, a karaoke room, shuffleboard, and even eight bowling lanes.
After checking our coats and a whopping four I.D. checks, a smiling waitress offered us a delicious Moscow Mule. Off we went.
At first glance, Punch Bowl gives a vibe of being a nightclub that offers all the amenities twentysomethings are said to love. But the place is
comfortable
. And the design of Punch Bowl — described by CEO and founder Robert Thomson as "dirty modern" with industrial, Victorian, and modern elements, and a Colorado mountain lodge feel — is quite impressive. There's reclaimed wood, log tables, relaxed lighting. It's slick. Thompson previously compared it to the likes of Wes Anderson's set for 2012's "Moonrise Kingdom," and he's not far off.
In the middle room, called the Social Lounge, Punch Bowl has a 360-degree bar, one of the clear standout features of the entire joint. Off to the back, a quieter space called the "Holiday Lodge" has a comfortable setting with a fireplace, plush chairs, and a billiards table.
We were fortunate enough to grab a bowling lane early in the evening. The shoes, lanes, and bowling balls all had a
new
feel to them. Interestingly, the lanes are, as we were told, eight feet shorter than your typical lane, with the pins held up by strings.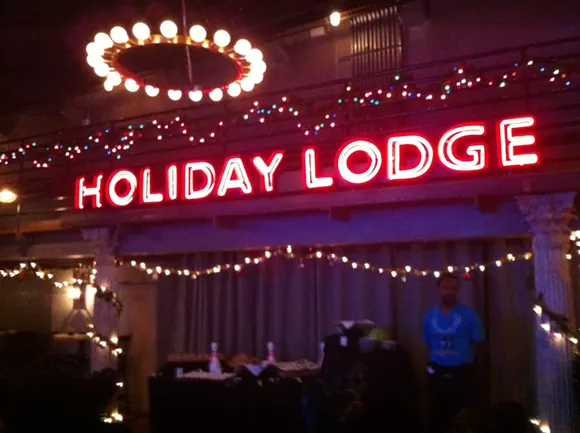 But Punch Bowl shouldn't be mistaken as solely an entertainment complex. Thompson and culinary director Sergio Romero stress the food is worth checking out.
Soon, the place will sling breakfast, lunch, and dinner daily — basically beefed up comfort food. Everything, we're told, will be made from scratch. Some planned entrées included chicken and waffles, buffalo meatloaf, and shrimp couscous salad. Breakfast will include equally unique takes on griddle staples ("Monkey Bread French Toast"), as well as a chicken soft scrambie.
Punch Bowl's small plates feature some of the most interesting concepts: strawberry melted leek quesadilla and cauliflower nachos. The company says it linked up with McClure's Pickles, Zingerman's, and Peteet's Famous Cheesecakes for the menu.
The bar gives a nod to local favorites, including Griffin Claw, Atwater, and Founders, after Punch Bowl's beverage director Patrick Williams spent time getting acquainted with the scene here. Punch Bowl tapped Valentine in Ferndale, as well as Two James in Detroit. Those who want to ease up on the booze can have a cup of coffee made from Great Lakes Roasting Company beans.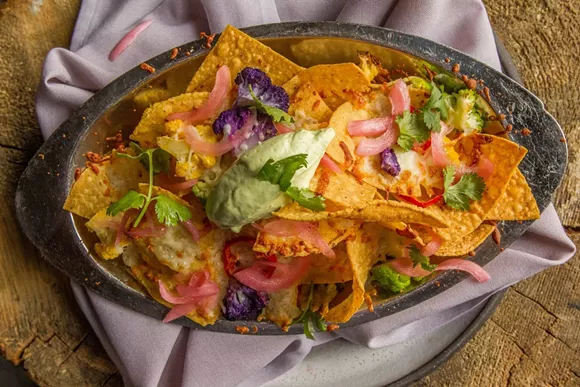 Early on, we thought Punch Bowl might have overcompensated for the amount of staff on-hand (as they probably should on opening night), but by 8 p.m. the place was packed. For a Wednesday night, the majority of the crowd clearly made a point to dress the part. (It was a V.I.P. opening between 6 and 9 p.m. after all.) If the crowd is any indication, it surely seems as if more than local twentysomethings working downtown will make a point to drop in to Punch Bowl. There was a diverse crowd on-site throughout the night.
By the time locals Kaleido took to a small stage set off to the side of the Social Room, we decided to turn in. If anything, we assume the Sunday morning Bloody Mary bar will merit a future visit in the coming weeks.
Punch Bowl Social is open 7 a.m.-2 a.m. Monday-Friday; 9 a.m. to 2 a.m., Saturday-Sunday. It's located at 1331 Broadway in downtown Detroit.