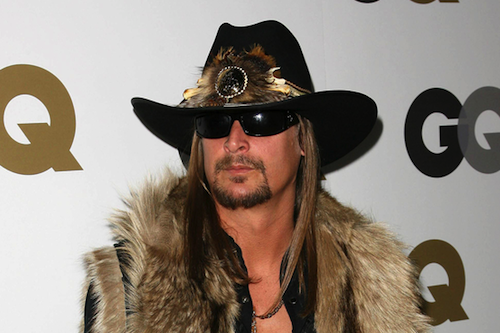 While Kid Rock has touted his love for Detroit on multiple occasions, his presence at Little Caesars Arena is not setting well with many Detroiters.
Kid Rock, who has a history of using the Confederate Flag at past concerts, was tapped to be the first performer at Little Caesars Arena, where he will play six shows starting Tuesday, Sept. 12. He will also
own a restaurant
inside of the new arena.
Protests have been planned
for the day of Kid Rock's first show at the new arena to "rally against symbols of white supremacy and hate in our amazing city of Detroit," according to organizers. "We will not stand by silently as the Confederate regalia supporting embarrassment to Detroit known as Kid Rock performs the inaugural concert at Little Caesars Arena downtown."
Pressure on Olympia Entertainment has been mounting during the last few weeks, with many on social media calling for the cancelation of Kid Rock's shows. When Olympia first announced the show back in January they said he was "the perfect entertainer to open Little Caesars Arena."
While Kid Rock hasn't used the Confederate flag on-stage for years, an
informational history
shows he told critics of his use of the flag to "kiss my ass" and just last month told a crowd in Iowa "fuck Colin Kaepernick" who has silently protested the National Anthem to bring awareness to police brutality towards people of color.
In
a column from Bridge Magazine
yesterday, writer and Detroit native Camille Johnson criticized the selection of Kid Rock: "At best, the selection is naively tone-deaf. At worst, it's an affront to people of color who feel left out of improvements in their own city."
The protest will be held from 6:30 p.m.-8:30 p.m. on Sept. 12 at the new,
tax-funded
Little Caesars Arena.