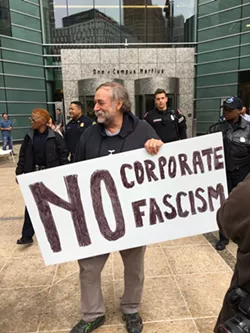 Apart from the caravan of food trucks stationed in Cadillac Square, downtown workers had another lunch break option this afternoon: a staged protest beginning in Campus Martius Park ended on the doorstep of Quicken Loans' headquarters.

Organized by local activists Elena Herrada and Bill Wylie-Kellermann, a group of 15-20 protesters equipped with signs ("no corporate fascism") and chants ("Dan supports the Klan") made the short march across Woodward in protest of a fundraiser benefitting Donald Trump held at a Dan Gilbert-owned building in Detroit on Friday.
Though the Quicken Loans CEO's level of involvement in the fundraiser is unknown, protester Sam Riddle pointed out: "You don't have to sit down and eat, but when you give them the room to hold that fundraiser, when you set the table, you're engaging and enabling a racist like Donald Trump."

Riddle, the political director of the Michigan National Action Network, went on to say that Gilbert and Trump are "of the same ilk"—white, wealthy elites contributing to the continued entrenchment of "two Detroits," wherein poor minorities are excluded from the Motor City's much-touted renaissance.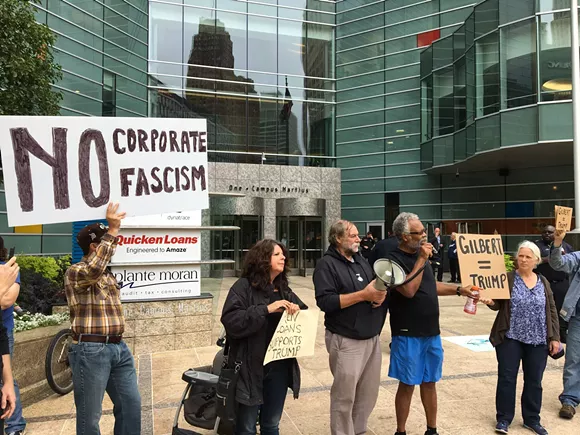 Herrada, the co-organizer of the rally, decried the perceived power asymmetry presently shaping Detroit's future, saying: "This is our city. This city does not belong to Dan Gilbert...We are going to confront this until we get our city back. We are not going to give our city over to millionaires, billionaires."
Flanked by a small but growing nucleus of onlookers, Wylie-Kellermann called for Gilbert to descend from his office at One Campus Martius to meet with the protesters, a request that was politely denied by building security and Detroit police. The demonstration continued on the sidewalk outside for approximately an hour, with protesters outnumbering press by a ratio of 3-to-1.
Around 12:45PM, as the lunch rush slowed, employees returned while protesters dispersed, a pair of groups heading in two decidedly different directions.