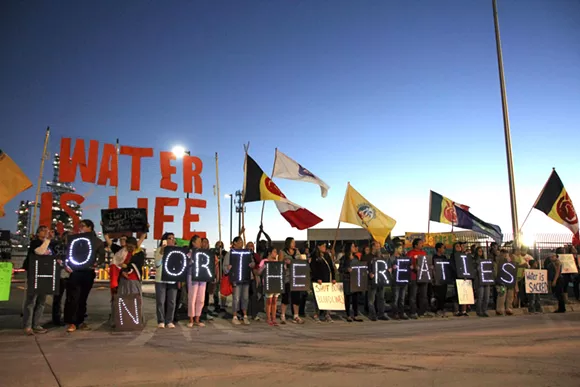 About 100 protesters outside the Marathon oil refinery in Southwest Detroit
stood in solidarity on Monday with the Standing Rock Sioux tribe's fight to block a new oil pipeline in North Dakota.
Thousands have organized for more than a month in opposition to construction of the Dakota Access pipeline, which the Standing Rock Sioux say will disrupt sacred grounds.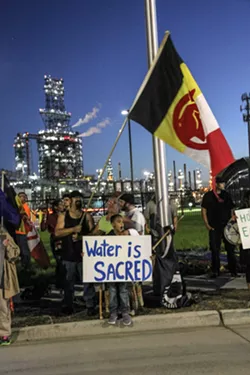 The U.S. Army Corps of Engineers elected on Friday to table the issuing of permits for digging on federal land near the Standing Rock reservation, according to The Guardian.
"It calls for action," says Larissa Flora, 28, of Ferndale. Numerous members of Native American tribes from Michigan were present at the protest, which was organized by the group Detroit Light Brigade, Flora said.
Detroit police were friendly to protesters, who blocked an intersection outside the Marathon refinery, Flora said.
The Dakota Access pipeline's path takes it across the Missouri River — a drinking water source — near the Standing Rock reservation.
"With all of the problems Detroit has had with water access lately, it was really inspiring to see residents taking a stand for the right to water for those so far away," Flora said. "It's a cause that unifies races, religions, and peoples."