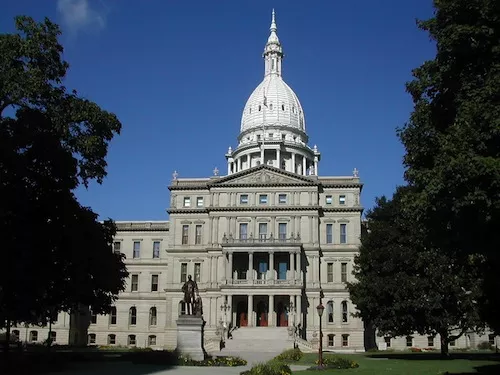 These days, with a profusion of satire online and news that verges closer to satire by the day, we often wonder if we're being had. (It has happened once or twice.) The latest head-scratcher is a report that protesters wrote on the building that is the seat of state government, and that a GOP PR guy and former press secretary for Gov. John Engler is on the warpath, trying to find the people who did this. He's very serious about this, and
has reportedly asked for help from the media and the Michigan State Police
.
What great crime was committed? Did protesters take sledgehammers to the building? Did they scrawl filthy words on the building in spray paint? Perhaps they threw buckets of corrosive water from the Flint River onto the delicate sandstone structure?
Nope:
They apparently used crayon and chalk to write on the building
.
Now, in fairness,
there are some arguments that removing even wax and chalk from sandstone can be an expensive proposition
, and we do give credence to them. But let's put these "crimes" in perspective. On the one hand, you had state officials and appointees dragging their feet for months while residents complained of foul-smelling, discolored water that caused illness and — as we now know — permanent damage. On the other hand, we have one man leaping into action to ensure the identification and prosecution of a few people who wrote a few slogans in chalk and crayon on a public building.
You know what? We sure hope we're being had. Because this is ridiculous.