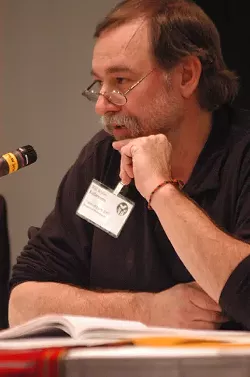 While lawyers engage in battle over the constitutionality of Michigan's emergency manager law and whether Detroit should be allowed to proceed in bankruptcy, there are ongoing efforts to engage the court of public opinion.
To date, activists claim the mainstream media seem to be fully on board with the actions taken by Gov. Rick Snyder and the state Legislature, and aren't all that eager to amplify voices it is believed are mostly marginal and bothersome.
Looking for ways to address that dilemma, a group of about 175 people gathered on Detroit's east side on Saturday, Aug. 17, to hold what was billed as a "People's Forum" on the emergency management issue.
Helping kick the event off was the Rev. Bill Wylie-Kellermann, pastor at St. Peter's Episcopal Church in Detroit. Readers of this column are probably aware that churchgoing isn't exactly a pastime usually pursued by the heathens at the Hits, but Wylie-Kellermann is one preacher we'd happily make an exception for.
If you are wondering why, take a gander at this snippet from the opening remarks he made at Saturday's forum:
"At the time the municipal emergency manager was appointed, Detroiters Resisting Emergency Management (D-REM) was formed with two intentions: First to create space for coordination and support of the assorted demonstrations and activities then taking place; and to plan action that would be nonviolent, creative and direct. This forum is convened in hopes of both. We come to listen to one another, to gather the truths we are learning and uncovering, to share plans and imagine action.
We will hear shortly from Grace Boggs, who is fond of asking us: What time is it on the clock of the world? One answer: It's time to enact self-governance and build beloved community. We know that because both democracy and community are everywhere, and so under assault at present. In this connection, we think of hundreds gathered in the promises of Arab spring, who are today being massacred by the U.S.-funded military coup in Egypt.
It is the same question, or one with it, to ask: What time is it on the clock of Detroit?
In recent weeks, we've seen bankers and lawyers taking massive profits ¾up front. We've seen workers and pensioners scapegoated and bled. We've seen an agent of the governor, who is also an agent of the banks, file for municipal bankruptcy, but without constitutional legitimacy. We've seen elections once again corrupted and dishonored.
So what time? Time to listen deeply to one another (in fact, in this forum we should be quicker to listen than to speak). Time to build on and support one another's work. Time to conspire in a way that puts more art and poetry in our action and puts more action in our poetry, making our theater streetwise. It's time for the elders to speak and the young people to listen, but also time for the young people to speak and the elders to listen.
Time for legal actions, regardless of hope for judicial reason or sanity, which go on record against official lawlessness. And it's time for illegal action, civil disobedience, which likewise goes on record against lawless authority. Many of us are yearning for a Moral Monday's movement of weekly civil resistance like those in North Carolina, which have now run up some 900 arrests at the state house in Raleigh.
We need Moral Mondays in Detroit, or Tuesdays or Wednesdays. (Hell, as a pastor, I'd settle for moral Sundays). It's time for slowdowns that become stoppages, and for deeds that get things moving, things that jump start movement. It's time for electing officials who refuse occupation or consent and know how to rule from exile. From those who understand that this struggle is at least half spiritual in character, it's time of pouring libations that summon the ancestors, for public liturgies and rituals and exorcisms that break the spell of these occupying powers. It's time for acts of imagination, and for putting the weight of our lives and our bodies behind them. Be welcomed, dear friends. If that is also a call to action then let it be so.
Damn. Keeping talking like that, brother Bill, and we just might end up swilling sacramental wine.
As for those of you possibly interested in climbing aboard the resistance train, see d-rem.org or phone 313-782-3736.
News Hits is written by Curt Guyette. Contact the column at 313-202-8004 or [email protected]