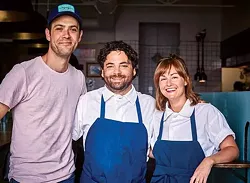 Soon-to-open downtown Detroit burger spot Loverboy is now Lovers Only.
The restaurant – a product of Voyager owner Eli Boyer and its chefs Jennifer Jackson and Justin Tootla – made a splash in July with its concept, which was described as a Wes Anderson-inspired burger joint. On Monday, the team announced the name change in a press release.
Lovers Only is targeting an early 2018 opening at 34 W. Grand River Ave. in downtown Detroit's Capitol Park.
The restaurant's press person, Mary Belovich, tells
Metro Times
that the concept will stay the same, but the new name "reflects the direction Eli, Justin, and Jennifer saw for the restaurant, so it was more of an organic change. They feel that it represents them and what they're doing at the restaurant better. "
What will a Wes Anderson-inspired restaurant look like?
Belovich tells us to expect a "Wes Anderson vibe," but the menu won't be inspired by the filmmaker. Instead, each menu item will have its "own rich story, drawing from their collective culinary experiences and backstories," Belovich says.