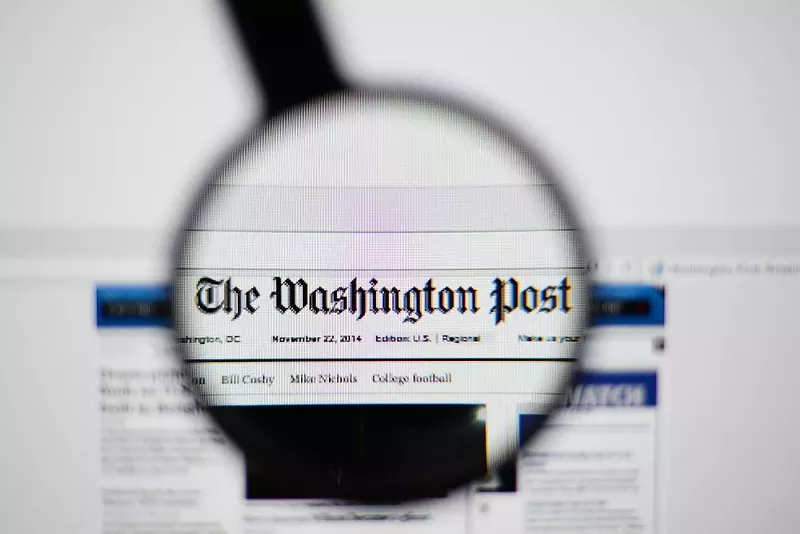 Each year, Project Censored compiles its annual list of censored stories in an effort to fight against fake news. This story is an excerpt from the organization's latest book, Censored 2019: Fighting the Fake News Invasion.
On May 1, 2017, the Washington Post introduced a policy prohibiting its employees from criticizing its advertisers and business partners, and encouraging them to snitch on one another.
"A new social-media policy at The Washington Post prohibits conduct on social media that 'adversely affects The Post's customers, advertisers, subscribers, vendors, suppliers, or partners," Andrew Beaujon reported in The Washingtonian the next month. "In such cases, Post management reserves the right to take disciplinary action 'up to and including termination of employment.'" Beaujon also cited "A clause that encourages employees to snitch on one another: 'If you have any reason to believe that an employee may be in violation of The Post's Social Media Policy ... you should contact The Post's Human Resources Department.'"
At the time, the Washington-Baltimore News Guild, which represents the Post's employees, was protesting the policy and was seeking removal of the controversial parts in a new labor agreement.
A follow-up report by Whitney Webb for MintPress News highlighted the broader possible censorship effects, as prohibiting social media criticism could spill over into reporting as well.
"Among The Washington Post's advertisers are corporate giants like GlaxoSmithKline, Bank of America, and Koch Industries," Webb wrote. "With the new policy, social media posts criticizing GlaxoSmithKline's habit of making false and misleading claims about its products, inflating prices, and withholding crucial drug safety information from the government will no longer be made by Post employees."
Beyond that, Webb suggested it could protect the CIA, which has $600 million contract with Amazon Web Services. Amazon CEO, Jeff Bezos, purchased The Post four months after that contract was signed.
"While criticism of the CIA is not technically prohibited by the new policy, former Post reporters have suggested that making such criticisms could endanger one's career," Webb noted.
He added that in 2013, former Post writer John Hanrahan told Alternet, "Post reporters and editors are aware that Bezos, as majority owner of Amazon, has a financial stake in maintaining good relations with the CIA — and this sends a clear message to even the hardest-nosed journalist that making the CIA look bad might not be a good career move."
"Corporate news coverage of The Washington Post's social media policy has been extremely limited," Project Censored noted.
It's part of a much broader problem, identified in Jeremy Iggers' 1998 book, Good News, Bad News: Journalism Ethics and the Public Interest. Iggers argued that journalism ethics focused on individual reporters completely missed the larger issue of corporate conflicts whose systemic effects fundamentally undermined journalism's role in a democracy.
Stay on top of Detroit news and views. Sign up for our weekly issue newsletter delivered each Wednesday.