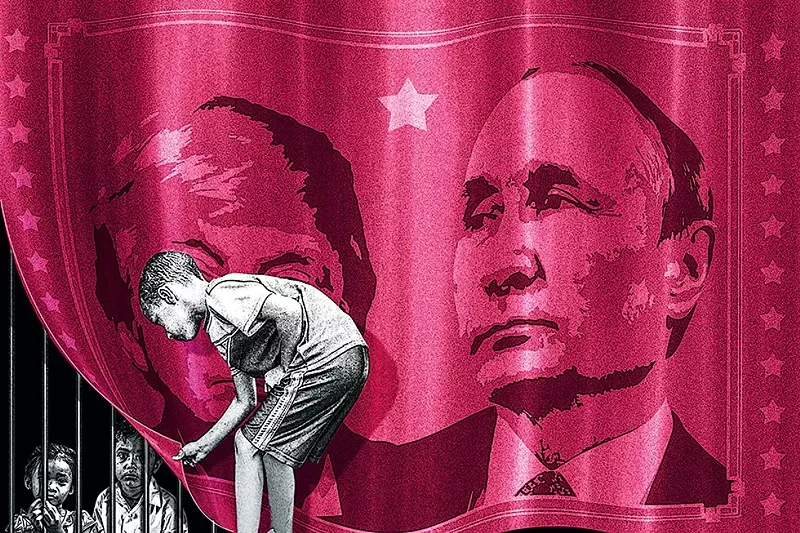 Each year, Project Censored compiles its annual list of censored stories in an effort to fight against fake news. This story is an excerpt from the organization's latest book, Censored 2019: Fighting the Fake News Invasion.
Is Russiagate a censored story? In my view, not exactly. This entry seems to reflect a well-intentioned effort to critically examine fake news-related issues within a "censored story" framework. It's important that these issues be raised — which is one reason why I suggested above that Project Censored add "fake news" as a new analytical category to examine annually along with its censored stories list, "junk food news," and "news abuse." What Project Censored calls attention to is important: "Corporate media coverage of Russiagate has created a two-headed monster of propaganda and censorship. By saturating news coverage with a sensationalized narrative, Russiagate has superseded other important, newsworthy stories." As a frustrated journalist with omnivorous interests, I heartily concur — but what's involved is too complex to simply be labeled "propaganda." On the other hand, the censorship of alternative journalistic voices is a classic, well-defined Project Censored story, which suffers from the attempt to fit both together.

In April 2017, Aaron Maté reported for The Intercept on a quantitative study of MSNBC's The Rachel Maddow Show from February 20 to March 31, 2017, which found that "Russia-focused segments accounted for 53 percent of these broadcasts." Maté wrote:
"Maddow's Russia coverage has dwarfed the time devoted to other top issues, including Trump's escalating crackdown on undocumented immigrants (1.3 percent of coverage); Obamacare repeal (3.8 percent); the legal battle over Trump's Muslim ban (5.6 percent), a surge of anti-GOP activism and town halls since Trump took office (5.8 percent), and Trump administration scandals and stumbles (11 percent)."
Well and good. But is this propaganda?
At Truthdig, Norman Solomon wrote:
"As the cable news network most trusted by Democrats as a liberal beacon, MSNBC plays a special role in fueling rage among progressive-minded viewers toward Russia's 'attack on our democracy' that is somehow deemed more sinister and newsworthy than corporate dominance of American politics (including Democrats), racist voter suppression, gerrymandering, and many other U.S. electoral defects all put together."
Also true. But not so much propaganda as Project Censored's broader category of "news abuse," which includes propaganda and spin, among other forms of "distraction to direct our attention away from what we really need to know." To fully grasp what's involved requires a more complex analysis.
On the other hand, the censorship of alternative journalistic voices is far more clearcut and straightforward.

In a report for Fairness and Accuracy in Reporting, Robin Andersen examined Russiagate-inspired censorship moves by Twitter, Google, and others. A key initial target was RT.
"RT's reporting bears striking similarities to alternative and independent media content, and that is why letting the charges against RT stand unexamined is so dangerous," Andersen noted.
In fact, the government's intelligence report on RT included its reporting on the dangers of fracking as part of its suspect activity. Beyond that, the spill-over suppression was dramatic:
"Yet in the battle against fake news, much of the best, most accurate independent reporting is disappearing from Google searches," Anderson said. "The World Socialist Web Site reported that Google's new search protocol is restricting access to leading independent, left-wing, progressive, anti-war, and democratic rights websites. The estimated declines in traffic generated by Google searches for news sites are striking."
There were declines for AlterNet.org (63 percent), DemocracyNow.org (36 percent), CounterPunch.org (21 percent), ConsortiumNews.com (47 percent), MediaMatters.org (42 percent), and TheIntercept.com (19 percent), among others.
On top of that, in Rolling Stone, Matt Taibbi pointed to much broader stifling of alternative views.
"Two years ago, remember, the American political establishment was on the ropes," Taibbi wrote. "From Trump to Bernie Sanders to Brexit to Catalonia, voter repudiation of the status quo was the story of the day. The sense of panic among political elites was palpable.... Two years later, the narrative has completely shifted. By an extraordinary coincidence, virtually all the "anti-system" movements and candidates that so terrified the political establishment two years ago have since been identified as covert or overt Russian destabilization initiatives.... We've jumped straight past debating the efficacy of democracy to just reflexively identifying most anti-establishment sentiment as illegitimate, treasonous, and foreign in nature," Taibbi wrote.
"Many people suffer when lies are reported as facts, but it seems that corporate media are the only ones that profit when they reinforce blind hostility — against not only Russia but also legitimate domestic dissent," Project Censored noted.
Stay on top of Detroit news and views. Sign up for our weekly issue newsletter delivered each Wednesday.