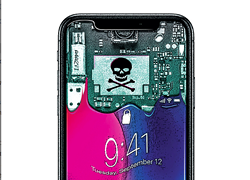 Each year, Project Censored compiles its annual list of censored stories in an effort to fight against fake news. This story is an excerpt from the organization's latest book, Censored 2019: Fighting the Fake News Invasion.
Are cell phones and other wireless devices really as safe as we've been lead to believe? Don't bet on it, according to decades of buried research reviewed in a March 2018 investigation for The Nation by Mark Hertsgaard and Mark Dowie.

"The wireless industry not only made the same moral choices that the tobacco and fossil-fuel industries did, it also borrowed from the same public relations playbook those industries pioneered," Hertsgaard and Dowie reported. "Like their tobacco and fossil-fuel brethren, wireless executives have chosen not to publicize what their own scientists have said about the risks of their products. ... On the contrary, the industry — in America, Europe, and Asia — has spent untold millions of dollars in the past 25 years proclaiming that science is on its side, that the critics are quack, and that consumers have nothing to fear."
Their report comes at the same time as several new developments are bringing the issue to the fore, including a Kaiser Permanente study (published in December 2017 in Scientific Reports) finding much higher risks of miscarriage, a study in the October 2017 American Journal of Epidemiology finding increased risk for glioma (a type of brain tumor), and a disclosure by the National Frequency Agency of France that nine out of 10 cell phones exceed government radiation safety limits when tested in the way they are actually used, next to the human body.
As The Nation reported, George Carlo was a scientist hired by the Cellular Telecommunications and Internet Association in 1993 to research cell-phone safety and allay public fears, heading up the industry-financed Wireless Technology Research project. But he was unceremoniously fired and publicly attacked by the Cellular Telecommunications and Internet Association in 1999, after uncovering disturbing evidence of danger:
Carlo sent letters to each of the industry's chieftains on October 7, 1999, reiterating that the Wireless Technology Research project had found the following:
"The risk of rare neuro-epithelial tumors on the outside of the brain was more than doubled ... in cell phone users"; there was an apparent "correlation between brain tumors occurring on the right side of the head and the use of the phone on the right side of the head"; and "the ability of radiation from a phone's antenna to cause functional genetic damage [was] definitely positive...."
Stay on top of Detroit news and views. Sign up for our weekly issue newsletter delivered each Wednesday.