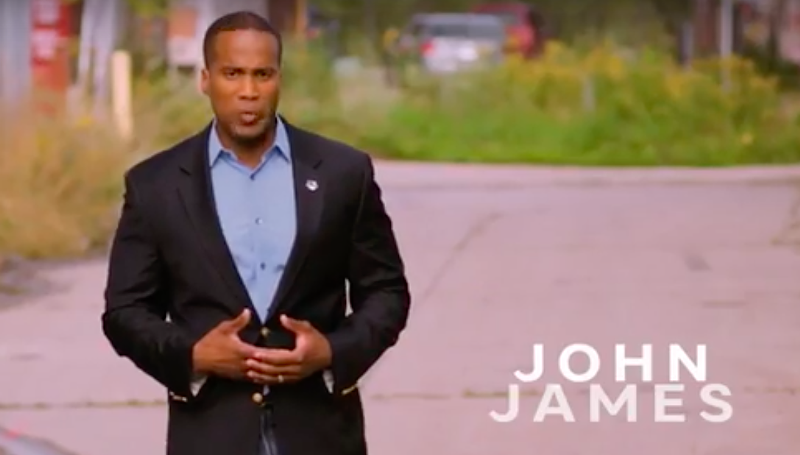 The Republican contender for Senate, John James, has had a rough couple of weeks. First, he aired a 30-second TV commercial that featured a prominent shot of a Nazi swastika, which he referred to as a "terrible error." Now, a mysterious radio ad that endorses James, who is black, accuses his opponent, Senator Debbie Stabenow, of committing "black genocide."

The radio ad has been playing sporadically for the past month, according to Bridge Magazine, on 92.3 FM WMXD, a Detroit-based R&B and throwbacks station owned by iHeartmedia. It's not clear if the ad is running on other stations, as iHeartmedia has not returned multiple calls and emails requesting comment.
The incendiary ad vaguely cites "a new study" that falsely attributes the majority of black deaths to abortion. However, according to the Center for Disease Control, legal abortion is not considered a cause of death.
"And Senator Debbie Stabenow is part of the problem. She supports abortion for any reason," the ad continues. "Debbie Stabenow and half of all black babies aborted, or John James and more opportunity? Sounds like a simple choice."
Stabenow supports access to reproductive rights for women, including legal, safe abortions through Planned Parenthood, and is endorsed by NARAL Pro-Choice America. Stabenow's office declined to comment for this article.
John James is endorsed by the National Right to Life and is strictly pro-life, only open to exceptions if the pregnant woman's life is at risk.
James' campaign manager Tori Sachs told Bridge Magazine that James does not approve of the ad, Bridge Magazine reports, and then put the blame on Stabenow for not passing campaign finance reform that would require advertisements to be approved by the candidate they're endorsing.
The ad, which is not endorsed by John James, is paid for by the Virginia-based Stars and Stripes Forever Political Action Committee. Stars and Stripes Forever is led by white conservative John Philip Sousa IV and was founded in 2013 to encourage Ben Carson to run for President. The PAC did not respond to multiple Metro Times emails requesting comment.
On their website, the PAC outlines their hopes to secure a filibuster-proof majority in the Senate by capturing the African-American vote in swing states like Michigan.
"We remain committed to our strategy of directed outreach to African American voters," their website reads."Moreover, our long-term goal is to win one-third of the African American vote on a regular basis."
View a transcript of the radio ad on the Bridge Magazine article that broke the story.
Will Feuer is a Metro Times fall editorial intern.

Stay on top of Detroit news and views. Sign up for our weekly issue newsletter delivered each Wednesday.