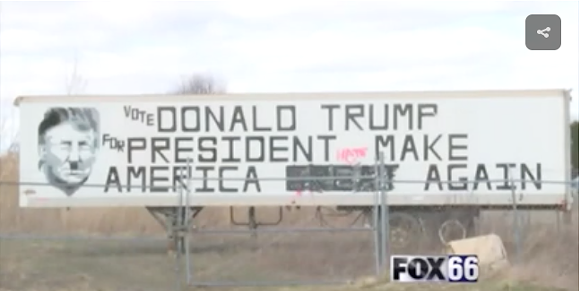 A pro-Donald Trump message was defaced Monday, with the slogan "Make American Great Again" changed to "Make America Hate Again." The artsy vandals, who police are still looking for, also took some creative liberties with the GOP frontrunner's appearance. They added a little mustache to Donald's portrait, a la Adolf Hitler.
The defacement occurred on a white semi-truck trailer parked on the I-75 near the Mt. Morris Road exit. The truck's owner, Donald Sampson, is a Donald advocate who announced in September that he would be creating the "billboard-sized message" on his vehicle and then driving it around the country during the 2016 election.
Sampson, who was not available for comment according to
MLive
, will likely have to make some amendments to his recently re-stylized trailer before he takes this baby on the road.

Read
our scintillating coverage from the Donald Trump rally in nearby Macomb County here.