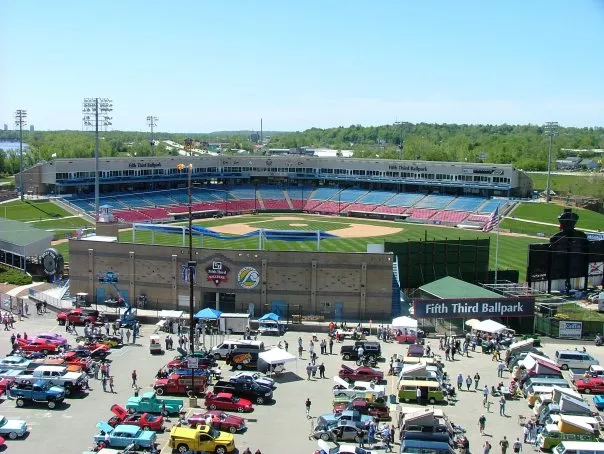 Initially, when Lew Chamberlin realized his dream of bringing a minor league baseball team to his West Michigan hometown of Comstock Park, he pursued a deal for a publicly financed stadium for the West Michigan Whitecaps.
But after purchasing the ballclub in the late 1980s, and after conducting a long search, Chamberlin, co-owner of the Detroit Tigers' single-A affiliate, and his partner, Denny Baxter, switched gears: They planned to privately finance the entire project.
The reasons, Chamberlin says, were of necessity. A group of Grand Rapids-area investors, including the duo, banded together "to engender some investment in downtown Grand Rapids."
"Essentially, it was a group of private sector folks, business leaders throughout the community, that were looking to improve downtown and make some investments ... and we became part of that process because there were about two large priorities that this group identified: one was the need for an arena, and the second was a need for a convention center."
The team eventually made the two privately, and publicly funded projects a reality, Van Andel Arena and the DeVos Place Convention Center.
Chamberlin and Baxter's dreams of a baseball stadium became a "third priority."
"It was a terrific formula and it really worked well for downtown Grand Rapids and it was an effort led by the private sector, but obviously included the public sector," he says. But, "because of the size and the magnitude of those two projects in front of us … we could see that it was going to be literally years before the public/private approach would ever work with our baseball stadium."
The pair realized with the significant amount of investment being generated in the area, there was an opportunity to capitalize on a strictly private venture.
What it came down to was something as simple as being "devoted to debt retirement, just as it could be a lease payment," he says. "Do you want to rent your house, or do you want to own your house?
"And we decided, in order to move this project along, we would take the risk and we were going to own our house. … We went out and raised [a] significant chunk of private equity investment from our partners here in town, then we reached an agreement with what was the Old Kent Bank (now Fifth Third Bank) … and they agreed to give us a commercial loan."
They broke ground in 1993 "with private investment and no taxpayer participation whatsoever," he says. When the ballpark opened the following year, the team broke the single-A attendance record with more than 475,000 fans attending games. It was a record "we broke the following year, and we broke again the following year," Chamberlin says.
"There's a lot to be said in being at the right place at the right time," he says.
And the Whitecaps have played a huge role in the community, says Cameron Van Wyngarden, superintendent of Plainfield Charter Township, where their ballpark is located.
"It's very clear that the Whitecaps are an anchor for the business community," Van Wyngarden says. "There's a number of businesses that thrive off the ballpark there, and not just because of spring and summer games. The Whitecaps have really done well in turning that venue into a year-round attraction."
He says he has no firm dollar numbers in terms of economic impact, but the ballpark has been a source of pride for the community, a point he says was amplified after a fire earlier this year damaged a significant portion of the stadium. Van Wyngarden says the community immediately responded.
"I think the fire showed really what a sense of pride [the ballpark] is for the community," he says "It's one of those things I think people really take for granted … so the community appreciation really started flowing this year, and I think the Whitecaps really see that stadium as more than just an entertainment venue, but as something [that] people in this community hold near and dear to their hearts."
The reconstruction, aided by the fact the stadium was privately financed, was complete in time for the Whitecaps' home opener last month.
While Chamberlin believes in the public/private approach, due to his positive experience in Grand Rapids with Van Andel and the DeVos convention center, the 100 percent private endeavor he and Baxter pursued offered a bevy of positives.
"It gives us a certain amount of control that you don't necessarily have with a publicly owned facility," he says. "Because we own the ballpark, we've been able to reinvest in the ballpark, significantly, almost every year," about $1 million annually over the last two decades.
"Our ability to sort of control our own destiny … has probably been the biggest benefit to us."