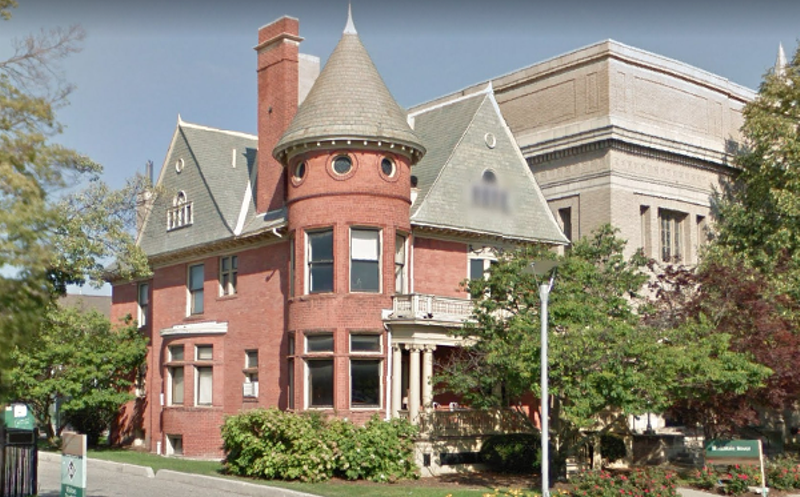 We heard from Preservation Detroit that the group is taking a serious look at a plan to transform the Hilberry Theatre, which would sweep Mackenzie House out of the neighborhood.
It's of special interest not just because the house belonged to the founder of the university. It's also the headquarters for Preservation Detroit, and its preservation was the impetus for the group's founding, as well as its first battle with the university. (In 1975, the university, in its infinite wisdom, had proposed tearing down the old house to replace it with a brand-new sewer main.)
Now the university would like to move the house so the site can become the lobby for a new, improved "
Hilberry Gateway
."
The university received $10 million in gifts for the project, voted to approve another $55 million in bonds to fund the project in February, and is voting at 3 p.m. Friday, March 23 on the project.
Preservation Detroit's president, Eric Kehoe, says the university has not even answered such questions as where the Mackenzie House would go, or whether engineers have even determined the house can be safely moved. (The university said it has determined it can be safely moved and that plans call for it to be moved to Forest Avenue on the same block.)
No doubt these are questions the group will bring up at the meeting. Other interested members of the public are invited to come speak as well. You don't even have to be a student. But if you were, and you were facing expensive tuition and other ballooning costs associated with higher education, you might be within your rights to ask why the university is spending $55 million on a performance venue.
The Wayne State University Board of Governors meets at 3 p.m. Friday, March 23, in Room BC at at McGregor Memorial Conference Center, 495 Gilmour Mall, Detroit.
Stay on top of Detroit news and views. Sign up for our weekly issue newsletter delivered each Wednesday.