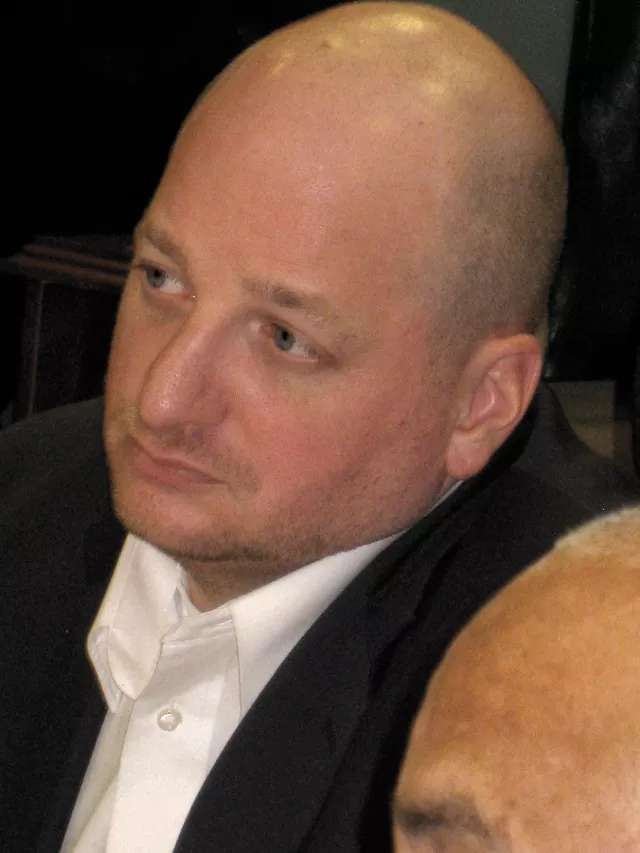 IIf Matt Gnatek, chairman of the Detroit Police and Fire Retirement System Board of Trustees, truly wanted to convince homebuyers caught up in the Paramount Land Holdings fiasco that he and other board members were listening to them with open minds, it probably would have been a good idea not to respond to their emotion-filled pleas for help with a statement that was prepared in advance of their appearance at last week's board meeting.
Think how you might feel if you went to someone in an attempt to prevent eviction from the home you were living in, and the response was:
"We've heard what you have to say before you've said it, and we're sorry to inform you that there's nothing we can do to help."
Talk about a profound inability to fake sincerity.
From the perspective of a handful of duped homebuyers who, along with their supporters, packed the board meeting, it all amounted to nothing more than a predetermined brush-off.
To be fair — or, at least, in our sincere attempt to present a veneer of fairness — we should note that some homebuyers burned in the Paramount scam appeared before the board previously, so the calls for help weren't exactly new.
But instead of being pacified by the chance to state their case, the victims of an alleged Ponzi scheme walked away feeling angrier and more frustrated than ever.
Asked after the meeting what was the message she heard from the board, Dana Hill responded: "Fuck you all."
To her credit, that wasn't a statement prepared in advance of the meeting; she waited until after the actual brush-off to explain exactly how she felt about being brushed off.
As we previously reported, Hill put down $750 for a home located on Detroit's northwest side and agreed to pay $495 a month, with a total purchase price of more than $44,000. The home is estimated to be worth about $15,000. When the furnace went out, she tried to obtain assistance to make repairs, but was turned down after it was discovered she didn't have legal title to the place. Then she learned that the county had launched foreclosure proceedings because more than $16,000 in back taxes were owed.
Multiply that story about 100 or more and you get some sense of the havoc and hardship caused by the pension board's ill-fated loan of $10 million in 2008 to an entity called Paramount Land Holdings. Formed by Abner McWhorter and George and Teresa Kastanes, Paramount was supposed to purchase and then resell run-down foreclosed homes, mostly in Detroit.
The stated intent was to help stabilize neighborhoods by taking empty, blighted properties and putting them in the hands of homeowners who would fix them up and start paying taxes on them.
But, according to Robert Day — an attorney for the nonprofit Legal Aid and Defender Association who is representing some of the homebuyers — this is what really happened:
"Paramount bought up to 3,000 bank-owned vacant homes mainly in Detroit, did nothing to repair or improve the homes and then marketed/sold these homes by land contract at exorbitant prices to area residents. But Paramount failed to record their ownership at the Register of Deeds and failed to provide legal descriptions of the properties in the land contracts. As a result, taxes continued to build up from the previous owners of the homes, and Paramount failed and refused to pay any of those back taxes, which they were required to do. ... "
In other words, Day says, these people were the victims of fraud.
He's not the only one saying crimes were committed.
As part of a prepared opening statement Gnatek read before giving homebuyers and their supporters a chance to speak, the board chairman informed them that, after the board sued Paramount and more than 20 others, some involved in the scheme have now "admitted ... that they perpetrated a fraud on the board."
"The Police and Fire Retirement System is actively pursuing recovery of all amounts owed and we are working with law enforcement authorities to bring the defendants to justice."
That's cold comfort to the fleeced homebuyers, who blame the board for setting the whole thing in motion by loaning Paramount the money in the first place.
"The pension fund unleashed Paramount Land Holdings on our community and caused great harm to our community as a result," Day asserts. "Paramount was well-known for its rip-off schemes in Cleveland and elsewhere, but the pension board chose to ignore this."
But the board is saying that it has no authority to help the duped homebuyers. That's because a Wayne County Circuit Court judge has placed the Paramount homes in the hands of a receiver.
"This board has no authority whatsoever over any Paramount property. These properties are under the control of the court-appointed receiver who must manage and sell the properties according to the orders of the court. The court has ultimate control here, and the receiver must report to the court. As much as we as a board and as human beings may sympathize with your plight, this is not the forum for your claims."
Day calls that assertion pure "baloney." He points out that the homes were turned over to the receiver at the request of the pension board as part of a lawsuit in which the board is the only plaintiff.
Think of it this way: The board is saying it can't do anything to help with the problem because it asked a judge to appoint someone else to deal with the problem.
Those are only some of the complications in a situation that's truly a mess.
If you believe Gnatek, the homebuyers and their attorneys are the ones standing in the way of an equitable resolution. In his view, the receiver and the Wayne County treasurer are attempting to help keep the properties from being foreclosed on and the people living in them from being evicted.
Among other things, Gnatek said, the receiver has offered to restructure the land contracts and "substantially" reduce the purchase price of the homes.
The message we got from the homebuyers and one of the attorneys representing them is that, having been victimized once already, they are mistrustful of any offers being made at this point, and want to see some guarantees made in writing.
Reading between the lines of Gnatek's statement regarding what has been offered, it seems as if he and the board think these people are angling to get something for nothing here. Certainly they are failing to appreciate all that's being done to assist them.
"I'm listening to you and thinking, wouldn't it be nice if I could go back to my mortgage company and say, 'I don't want to pay what the contract calls for?'" he said.
In Gnatek's view, these folks are actually fortunate to be in the position they're now in.
As we noted, the preceding quote was prepared in advance.
Which means that Mr. Gnatek is an astounding fellow, with the ability to look into the future and say exactly what it was he was thinking in response to hearing what hadn't yet been said.
Is it any wonder these people are leery of the supposedly benevolent offers it's claimed they are failing to take advantage of?