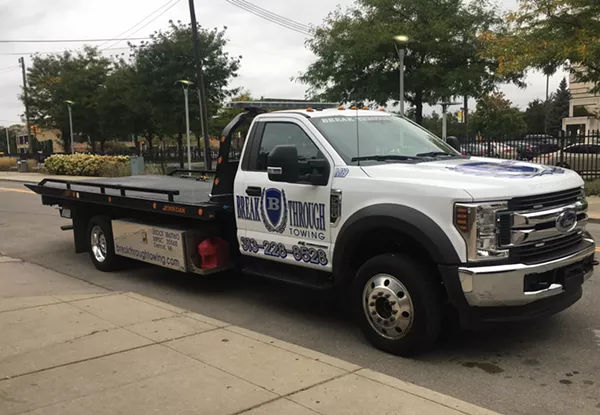 The owner of Detroit's Breakthrough Towing appears to have started a new company after
multiple media reports
highlighted Breakthrough's predatory and controversial tactics that critics say are designed to scam motorists out of money.
State
records show
Breakthrough owner Michael Dickerson established Magic Towing in late November and was listed as its registered agent until the company was dissolved on Feb. 27. It was re-established on March 12 with Launtrell Robertson
listed as its owner
.
When reached by
Metro Times
on Wednesday morning, Dickerson angrily told a reporter to "quit calling my phone" and hung up.
Robertson told
Metro Times
his company has nothing to do with Breakthrough, and he isn't sure why a company called Magic Towing was dissolved just days before he filed paperwork for Magic Towing. It's a coincidence, Robertson claimed.
Regardless, Breakthrough is still operating and facing a class action lawsuit that alleges it routinely engages in "illegal, predatory, and rogue practices."
The suit
filed in September
by attorneys with the Truth2Power Civil Justice Fund alleges that Breakthrough Towing broke state laws by hauling vehicles from private lots without proper permission, refusing to release vehicles to owners who showed up before their vehicle was towed, and failing to notify police before removing vehicles. The alleged violations occurred at a range of locations in Detroit and Hamtramck, including Midtown Liquor & Deli on Woodward and the CVS on Holbrook.
Also in September, Breakthrough was the subject of a viral YouTube video that purported to show the company trying to tow McDonald's customers legally parked outside the restaurant's location on Woodward in Midtown.
People who have contacted
Metro Times
about the company say it has tried to tow them from outside of businesses where they were customers, damaged their vehicles, and cursed at or threatened them.
In recent months, AAA Insurance
cut ties
with Breakthrough, and Detroit's Buildings, Safety, Engineering and Environmental Department
slapped the company
with 10 tickets relating to blight and code violations at its Detroit parking lot.
Stay on top of Detroit news and views. Sign up for our weekly issue newsletter delivered each Wednesday.