After tweets from Detroit nightclub Populux that included the phrase "#fuckblacklivesmatter" circulated on social media following the mass shooting in Dallas, the venue is facing concert cancellations and a protest — but said Friday the posts were unauthorized and the result of a compromised account.


The tweet was deleted immediately and the club apologized hours later via Facebook and Twitter. The hashtag #boycottpopulux was created shortly afterward. L.A. electronic act Bixel Boys and Chicago hip-hop artist Vic Mensa — a vocal supporter of Black Lives Matter —both announced they were canceling upcoming Populux appearances. The Bixel Boys show was scheduled for Friday night.


Stating "we don't endorse hate of any kind," the nightclub said it's using IP addresses to identify the author of the tweet.


"We didn't authorize these tweets. We're working to understand how our account was compromised," Populux's statement said in part. "We stand in solidarity with the Black Lives Matter movement."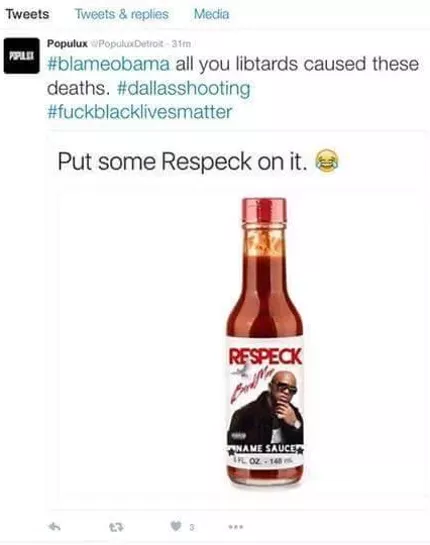 Mensa said in a tweet announcing the cancellation of a July 27 performance: "Will not be performing @PopuluxDetroit on #BackWithAVengeance due to the racist comments they tweeted yesterday."


Many social media users were not satisfied with the club's apology, pointing out that a retweet of former Congressman Joe Walsh — a polarizing figure in the wake of recent police violence — remained on the club's account even after the "#fuckblacklivesmatter" tweet was deleted. Walsh's tweet sent after the Dallas shootings included the phrase "You did this #BLM."
We sincerely apologize about the views expressed in some tweets that went out last night. Our account was hacked.

— Populux (@PopuluxDetroit) July 8, 2016

@DJBleekG tweeted that a protest would be held at 9 p.m. Friday at the nightclub in the wake of the social media posts.


The nightclub's management said they woke Friday to find the posts: "We removed one, and later discovered a retweet, which was not immediately visible to us when we logged in." The statement added that "we stand in solidarity with the Black Lives Matter movement."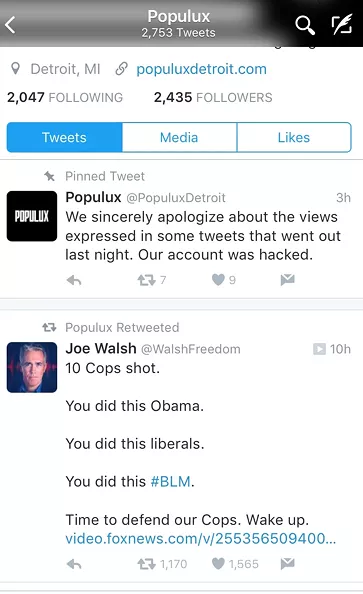 Just want to say fuck @PopuluxDetroit for RTing Joe Walsh. A club that makes its money off of Black artists. Never playing there again.

— Trees (@CharlesTrees) July 8, 2016