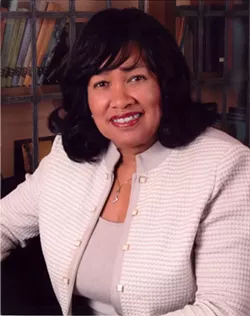 After three emergency managers and seven years of state oversight, most control over Pontiac's finances and city operations is returning to Mayor Deirdre Waterman and city council.
City Administrator Joseph Sobota, appointed by former Emergency Manager Lou Schimmel in 2013, will step down from his position after a Thursday vote by the Receivership Transition Advisory Board was approved by State Treasurer Nick Khouri.
The transition board will continue to review the city's budget, but only contracts of $500,000 or more will come before the board. The board previously reviewed all decisions with an impact of $10,000 or more.
"It has a long journey to get to this point," Waterman says. "I'm elated that at last Pontiac has surmounted the problems of its past to emerge from financial distress (with this) newly announced return of executive powers."
The city's finances have been under state oversight since 2009.
Former Mayor Walter Moore says Thursday's resolution fails to fully return democratic rights to Pontiac citizens, as the transition board will continue to approve the city's budget.
"There is no reason for people to come in here to second-guess the people we elected. It violates our rights — that's why I am angry and many others are angry," Moore says.
Schimmel, Pontiac's third and final emergency manager, issued a final order as he left giving Sobota substantial control over the city's day-to-day operations and finances. Gov. Rick Snyder appointed the transition advisory board to the city at the same time.
Sobota was viewed by many as a new incarnation of an EM. Many in the city of about 60,000 believed power would be restored to the elected mayor and council when Schimmel, who previously served as EM in Hamtramck and Ecorse, stepped down.
State Rep. Tim Greimel (D-Auburn Hills), called the move "egregious" and "illegitimate" in a letter that he sent to Snyder following the announcement, later pointing out to the
Huffington Post
that he believed "the governor and his administration are planning to impose city administrators across the state when the emergency managers leave."
Schimmel defended the controversial decision, telling
The Detroit News
in 2013: "The state of Michigan itself said we want to make sure your changes hold up and good financial management continues in the city."
Hamtramck and Ecorse both fell back into financial distress following Schimmel's departure, so it can be inferred that his decision to appoint Sobota, who had been the city's community development director, was to avoid the same fate in Pontiac.
Pontiac's three emergency managers paid off $87 million in debt and outsourced or privatized nearly every service, including police and fire protection. At the same time, the city's budget was further strained as its property tax base and revenues dropped by about half during the recession and mortgage foreclosure crisis of the last decade.
Schimmel's final order gives Sobota authority over financial decisions up to $10,000, a stipulation that council must be consulted for spending between $10,000.01 and $50,000, and requires Transition Advisory Board approval for decisions with an impact of more than $50,000.
The Pontiac City Council
passed a resolution
, which was vetoed by then-Mayor Leon Jukowski, that characterized Schimmel's final order as both illegal and an overreach.
The final order was later amended when a power-sharing agreement was reached between the state, Sobota, and Waterman that gave the mayor responsibility for the city budget, litigation over retiree health care and the proposed demolition of the Phoenix Center, economic development, and blight removal.
While Pontiac has a significant liability that's still unresolved — a federal lawsuit filed by retirees after their health care benefits were eliminated is now in mediation — the city now has a budget surplus of $10 million,
according to The Oakland Press
. Waterman has urged the state to return Pontiac to local control now that the city's finances are stabilized.
Flint's Mayor Karen Weaver fired City Administrator Natasha Henderson one month ago. Henderson was appointed by Flint EM Darnell Earley in December 2014.
"My focus is moving the City of Flint forward and I feel these personnel changes are necessary to keep us on the right path," Weaver said in a statement last month.
Dustin Blitchok contributed to this report.