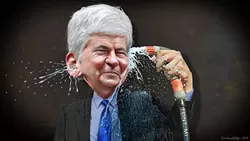 A new statewide poll highlights Gov. Rick Snyder's lowest approval ratings since he took the helm in January of 2011.
In May 2016, 52 percent of polled Michigan voters said they disapproved of Snyder's performance during his five years in office, and 40 percent said they approved, according to a new poll that was exclusively released to the
Detroit News
and WDIV-TV.
Snyder's drop in approval is tied to the Flint water crisis — in October 2015, he acknowledged that the water source in Flint was highly corrosive and therefore causing leaded water to come out many taps. The past nine-months have been a series of revelations surrounding the public health scare, as Snyder and his appointees have released documents and emails relating to the crisis.
For some context for how the Flint water crisis affected Snyder's approval rating, consider the data from June 2015 —
before Snyder acknowledged the Flint water crisis — when only 39 percent of the polled potential voters disapproved of his performance and 55 percent said they approved of the job he had been doing.

As the
Detroit News
points out, the news of the poll comes the same day the Mackinaw Policy Conference begins. Snyder — who can not run for re-election, but has over a year left in his term — will launch the annual event with a commencement speech this afternoon.