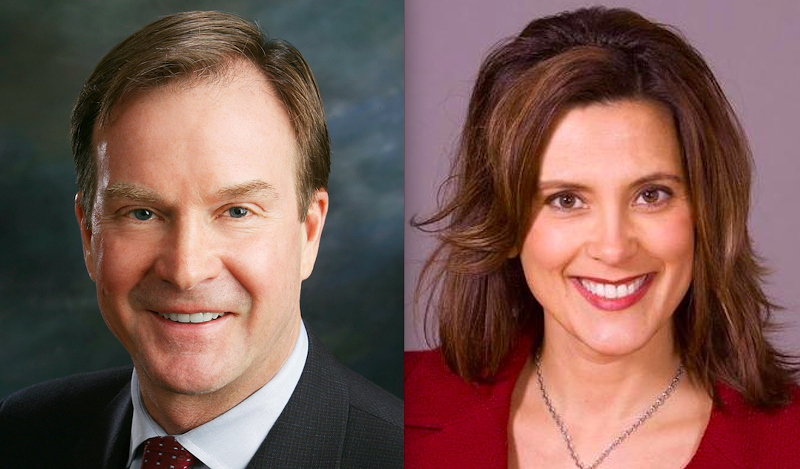 So far, numerous polls have given Michigan Democrats a comfortable advantage over Republicans in the Nov. 6 general election — a sign of a so-called coming "Blue Wave" in reaction to President Donald Trump. However, a new poll suggests that lead could be narrowing.
A
Detroit Free Press
poll released Thursday shows Democratic leads in some races have shrunk, and in some instances quite dramatically.
"If it's a Blue Wave, it's not going to be a very big wave," pollster Bernie Porn told the Freep.
If the election for governor were held today, the poll found Democrat Gretchen Whitmer would get 46 percent of the vote and Republican Bill Schuette would get 41 percent. Previous polls had given Whitmer a double-digit lead.(Meanwhile, Libertarian Bill Gelineau polled at 3 percent, short of the 5 percent his party needs
to remain a primary-qualifying party
.)
It also showed a tightening in other races, too: For Secretary of State, the poll found Democrat Jocelyn Benson would get 40 percent over Mary Treder Lang's 36 percent. In the race for the Senate, the poll found incumbent Debbie Stabenow would get 49 percent to John James' 42 percent. (Previous polls had given Stabenow as much as 20 points over James.)
The poll also found the race for attorney general to be a tie, with Republican Tom Leonard and Democrat Dana Nessel at 39 percent each.
Previous polls had given Whitmer a double-digit lead over Schuette: In fact, another poll released Monday by Republican consulting firm MRG showed Whitmer leading Republican Bill Schuette by a comfortable 14 points. A September EPIC-MRA poll gave Whitmer an 8-point lead over Schuette. And last month,
Sabato's Crystal Ball
changed its prediction
for Michigan's race for governor from "Toss-Up" to "Likely Democratic."
Stay on top of Detroit news and views. Sign up for our weekly issue newsletter delivered each Wednesday.