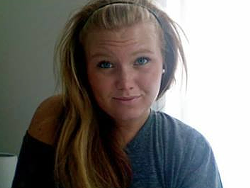 Updated 10:30 a.m. on Thu., Oct. 15:
Alexys Henbury has been found safe in Detroit — but she doesn't want to return home,
WJBK reports
.
Oakland County Undersheriff Michael McCabe told WJBK she was pulled over during a traffic stop in Detroit but was released. "She was committing no crime," he said. "She was not suicidal or homicidal and does not want to return to Springfield Township. She is an adult and can make her own choices."
Henburg's family released a statement:
"Alexys has been found, my family requests you respect our privacy while we sort this whole thing out. We thank you all for the magnitude of effort that all of you have put forth in helping us locate her — this would not have happened without the amazing efforts of each and every one of you."
Originally posted 11:59 a.m. on Wed., Oct. 14:
A 24-year-old Springfield Township woman named Alexys Henbury last spotted in Detroit over the weekend has gone missing, and the Oakland County Sheriff's Office is asking for help locating her.
"Saturday morning she was at home, in great spirits and her joyful normal self," Henbury's mother Tracy Waggener-Henbury wrote on Facebook. "She left the house before noon and we don't know exactly what happened from there."
Henbury is described as 5-foot-2, 120 pounds with blonde hair and blue eyes. She was last spotted in the area of Philadelphia and Linwood streets in Detroit driving a white 2015 Ford Focus with the license plate DHE0978.
According to WJBK, friends last heard from Henbury around 5 p.m. on Saturday when a man answered her phone, claimed he was her brother and told them she was drunk.
"He represented himself as Alexys' brother and her brothers aren't in Michigan," Tracy said. "So nobody knows who it was the phone never went back on since it was off."
Anyone with information about Henbury's whereabouts is asked to contact the Oakland County Sheriff's Office at 248-858-4911.
Via WJBK.