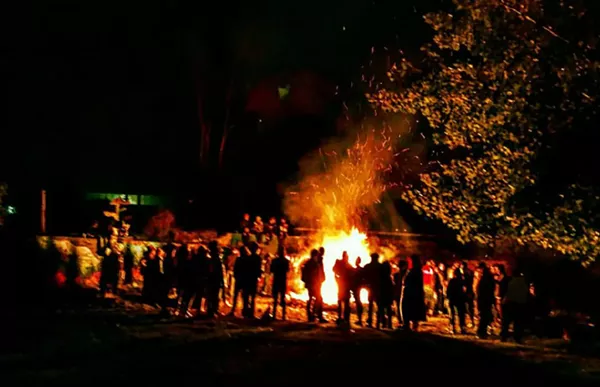 A popular party at Detroit's Lincoln Street Art Park was shut down by police early Thursday morning in an episode that attendees say involved "heavy-handed cops" and even a helicopter.
Sources familiar with the situation say Detroit police descended on the Northwest Goldberg industrial center-turned-sculpture park at approximately 1:40 a.m. to break up the late night gathering, a monthly word-of-mouth underground event which has regularly occurred since 2014. The incident follows a culture feature published in
The
Detroit Free Press
last month, titled
"A dusk-to-dawn party in Detroit you've probably never heard about,"
which included gratuitous details noting the presence of marijuana and "whip-its" while at the same time noting that organizers had not wanted to publicize the event.
One attendee, who prefers to go by Brandon J., says that in recent months a Detroit police patrol car would typically roll by the party. This time, however, it was different. At first, he says two police vehicles approached the event, followed by a helicopter beaming a spotlight down on the park. Shortly after, more police vehicles arrived, with officers approaching the party brandishing flashlights.
"Tactically, it had to be planned," Brandon says.
That sentiment is echoed by fellow attendee and area event organizer Steven Reaume. "I've been going to underground parties for 30 years," Reaume says, "There's a degree of police presence — some for noise complains, and some are a pre-planned raid."
According to attendees, police didn't make any arrests nor issue tickets — they only came to disrupt and disperse the crowd. Previous editions of the party could include thousands of attendees, but sources say this event had a lower attendance.
Detroit police did not immediately return a request for comment.
Still, now that the dust has settled, some partygoers are angry that one of the city's hidden gems was
narc'd
out by the Freep. There's even a photo circulating on social media of the writer with a caption stating, "Keep this one out of your next underground event."
"When I read the article I was shocked by it because of the fact that she was so blatant about drug use which is not a big part of that party," Reaume says, "[It] was so obvious that it wanted to be kept quiet but she broadcasted it through
The Free Press
."
Brandon J. agrees. "When I heard it mentioned, I was immediately disgusted," he says. "Why the need to write publicly knowing it would jeopardize something we love and support or rely on?"
Reaume worries that the incident casts a bad light on the event and the organizers.
"Our [scene] is one of the best, our promoters get along, it's respectful, it's safe," says Reaume. "It's something we're conscious of. We do stand out in Detroit compared to other cities in the way that we work together to make the scene safe."
Though some attendees have described the incident as a "raid," others made sure to note that the police were respectful and professional about the whole thing — there were no Tasers, tear gas, or force used.
"They just said, 'Time to go home kids,'" one attendee says. "At the end of the day, the party got shut down, but it wasn't a raid."
Get our top picks for the best events in Detroit every Thursday morning. Sign up for our events newsletter.