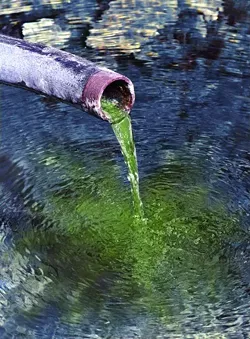 Poisoning Ourselves
Dear Editor:
re: "Michigan's Silent Spring"; [Feedback, Sept. 18-24, 2013]
I read with interest the letter from Nancy Davis; thank you for posting it for our information. It is very disheartening that Gov. Snyder promised us Michiganders during the 2010 elections he would support clean energy policies.
As a "good green Republican," we have not seen his success, as yet. Mandates were to be tightened and financial tools used to promote the state's clean energy momentum. Disappointing results to date should give him the extra incentive to push harder to accomplish his promise to us.
Just say "no" to new coal.
Janice Smith
Southfield, Sept. 21, 2013
Taking Sides
Dear Editor:
I'm hugely excited about Napoleon's plan. [It] makes the most sense and is the best to date.
Deborah Dolsey
Detroit, Sept. 26, 2013
Big Business and the Bar
Dear Editor:
As a member of the Michigan Bar Environmental Law Section, I recently attended the annual meeting with attorneys from across the state. I thought I might meet some like-minded attorneys concerned about protecting Michigan's environment. Instead, I felt surrounded by industrialists and developers, concerned only with how to deregulate Michigan's protective laws so they could make a buck.
An executive from the Michigan Department of Environmental Quality (MDEQ) emphasized that MDEQ has been changing regulations with advice from the "regulated community." That is like letting the fox guard the chicken coop.
We don't seek the advice of criminals when we set sentencing guidelines. Is it really a good idea to let industrialists rewrite our protective environmental regulations and laws?
Dawn Fleming
Lansing, Sept. 23, 2013
Speaking the Gospel
Dear Editor:
Thanks for [guest editor Larry Gabriel's] insightful comments with Lee Thomas on [WJBK-TV Fox 2] The Nine; you represent the issue well very; professional. Thanks for all your work covering this topic.
Joe White
Eastpointe, Sept. 26, 2013
The writer is a member of the Michigan chapter of the National Organization for the Reform of Marijuana Laws.