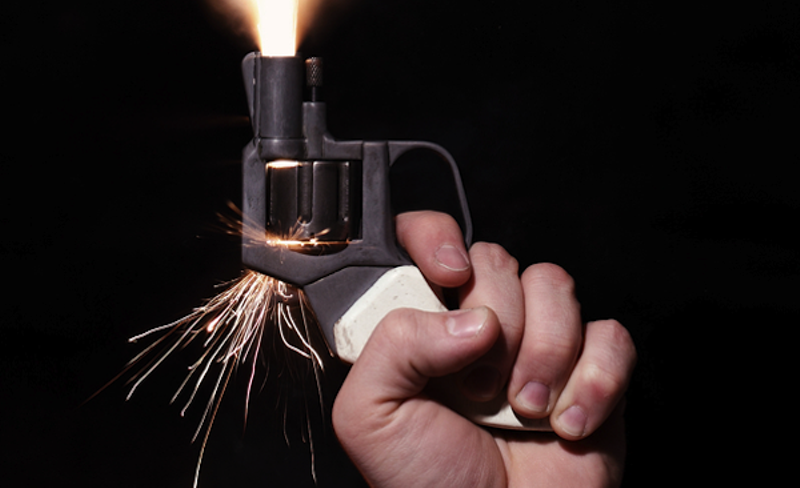 In Detroit, with limited exceptions for self-defense and shooting ranges, it's against the law to discharge a firearm within city limits. But that doesn't stop people from doing so, often in anger, but notably in celebration, especially on New Year's Eve at midnight.
Tomorrow morning, Detroit residents will gather to kick off a program to do something about it, launching
a campaign to discourage their neighbors from firing live bullets at midnight
on Dec. 31.
Dozens of members of the Youth Initiatives Project of the Neighborhood Service Organization will be joined by Detroit Police Chief James Craig at Detroit's Public Safety Headquarters, where they'll discuss the "Hugs, Not Bullets" program. Celebratory gunfire will be just one part of the program, which will involve workshops on gun violence, bullying, and gang activity.
On its face, the program is reminiscent of "Angel's Night," the citywide program created to combat arson on "Devil's Night" — the eve of Halloween. By patrolling neighborhoods and posting fliers on vacant structures, volunteers played a role in turning what had been a citywide spree of arson into a relatively normal night for city firefighters.
As for stopping Detroiters from firing guns at midnight, that seems more of a challenge. A group of neighborhood peacekeepers approaching a stealthy arsonist may well scare the no-goodnik carrying a gas can. It would seem that efforts to stop celebrating Detroiters from launching slugs skyward would have to rely on education and persuasion.
It's likely that a lot of people, not just in Detroit but across the world, aim firearms into the sky and pull the trigger in the belief that the rounds will cause little harm. But when they come back down, they can kill, or come whizzing down blocks away with deadly force. Yes, most revelers are indoors, and injuries from falling bullets tend to be more common in climates where New Year's Eve isn't bone-chillingly cold — places like
New Orleans
,
Houston
, or
Maryland
.
But bullets can pierce windows and roofs. In 2010,
Marquel Peters
was seated in church in Decatur, Ga., with his family when a bullet breached the roof and hit him in the head, killing him. In 2005,
Pvt. Daniel Carpioa
fired a gun in the air late in December and the bullet entered a fifth-floor window and killed a 28-year-old mother of two. Yes, it can happen.
While we wish the program luck, and are publicizing it here, one mystery remains. Why "Hugs, Not Bullets." Why is this the name of the anti-gunfire campaign, and not "Hugs Not
Slugs
"? It just seems like the most obvious choice for a slogan. The fact that it was not used makes us think it must be trademarked.
Also, organizers really have their work cut out for them in some parts of Detroit. (
This videographer joked
that he didn't need a clock to tell him when it was midnight.)
Then again, maybe some people are getting the message.
Our buddy Jonathan Pommerville
posted a video at the beginning of last year that had
so much gunfire it sounded like downtown Raqqa
. The next year, not so much. The video featured so little gunfire, in fact, that Pommerville could identify who was doing some of the shooting. It's one of those hilarious, only-in-Detroit moments: a couple sitting on the porch, toasting the new year, and seeming weirded out by the
lack of
gunfire.
Now that's some weirdness I think we can all handle.