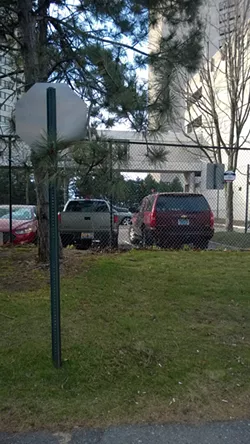 We know, we know: Detroit city services are perennially under-resourced, and it's a lot to ask for basic things like, say, stop signs that face the right direction. Reddit user "FarmerOzzie" recently made
an important observation
after spotting one such sign:
"Even our signs downtown sometimes communicate like incoherent, aging crackheads," he posted. "Who are you talking to?"
User "urbaneyezcom" chimed in, saying, "The best sign I've seen in Detroit are the parking enforcement signs that say 'Strictly Enforced' — the quotations are included on the sign. I'm not sure if they meant that as a joke."
"XIGRIMxREAPERIX" says their favorite sign is the "Ticket Scalping is Illegal" on the pedestrian overpass at the Joe Louis Arena: "Underneath is always 2-3 scalpers," they added.
And "denodster" says near Grand Circus Park there's a sign at an intersection that does not have a light that says "No Turn On Red."
So,
MT
readers, we defer to you: What's your favorite Detroit sign flub?