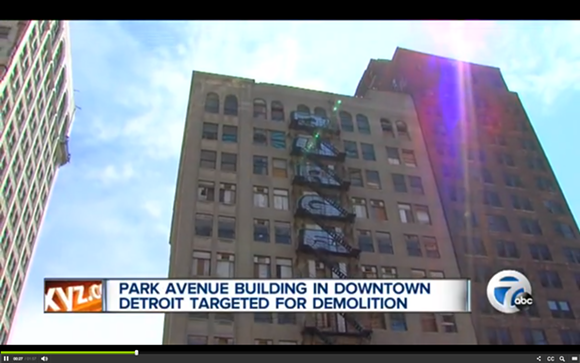 Detroit wants a Wayne County Circuit Court judge to order the owner of the beaux-arts style Park Avenue Building in downtown to demolish the structure, but a petition launched this week asks the city to
reconsider the move
.
The 12-story Albert Kahn-designed building at West Adams and Park avenues has been empty for about 15 years, and the city described it in a court filing as "the very definition of irreparable harm to the public,"
according to The Detroit News
. It appears to be a continuation of the city's campaign against owners of blighted commercial structures, an initiative the city discussed in a
Metro Times
story last month about the former AAA of Michigan structure, which was
demolished last week
in light of a court order.
But as Amy Elliott Bragg, president of the board at Preservation Detroit, put it, the lawsuit against Park Avenue Building owner Ralph Sachs should be reconsidered. In an interview last week, Elliott Brag agreed that building owners should be held accountable for the upkeep of their properties, but tearing down a structure that could potentially be redeveloped through legal means, more or less, validates those actions.
"We would really like to see the city stop rewarding that kind of behavior," Elliott Bragg said. The market is ripe for rehab and redevelopment, she points out, such as the Briggs House Residence project next door to the Park Avenue Building. The better course of action for the city would "be to step up code enforcement" to make it harder for owners to let a building deteriorate, she said.
The petition says, "After decades of careless demolition, Detroit cannot afford to lose any more of its beautiful high-rise buildings, especially one that helps encircle the historic Grand Circus Park."
Numerous buildings in and around Grand Circus Park have undergone extensive renovations, the petition points out. Instead of seeking a court-ordered demolition, the petition asks the city to seize the property, seek bids to restore the structure, which was constructed in 1922, "and preserve what is left of our cityscape."
As of 3:30 p.m. Monday, 180 people have
signed the petition.

Update: A previous version of this story misspelled Elliott Bragg's last name. We regret this error.