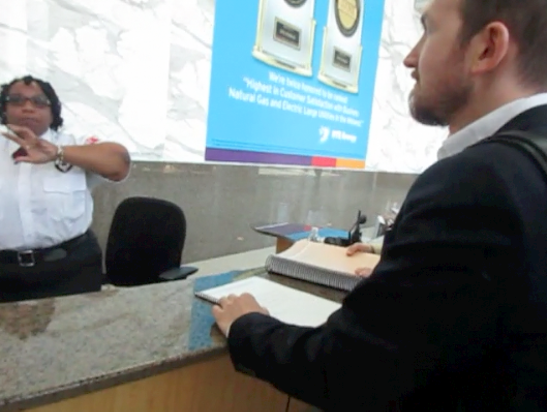 Environmentalists have given DTE Energy an illustration of the opposition to the company's plans to build a billion-dollar gas plant on the St. Clair River, delivering a petition signed by 10,000 of DTE Energy's customers to the company's headquarters in Detroit.
At a news conference ahead of the demonstration Thursday, representatives of Michigan environmental groups and chapters discussed the problems with
DTE's plan to replace a coal plant with an "efficient gas plant" about 30 miles northeast of Detroit
.
They spent a half-hour presenting information that demonstrated the need for DTE Energy to invest meaningfully in renewable energy rather than asking the Michigan Public Service Commission to allow it to charge ratepayers for a brand-new plant in which to burn fracked gas. The decision is due April 27.
"The law requires DTE to fairly assess energy options including solar power, wind power, and energy efficiency and to choose the resources that are the most prudent and reasonable for its customers," Becky Stanfield with Vote Solar said. "A massive gas plant is not the most reasonable and prudent way of meeting DTE's customers needs.
"In fact, experts have shown more than 10 different ways to serve the needs of DTE's customers without the gas plant — with clean energy sources that create more jobs, eliminate the land, air, and water pollution that this plant would create for decades to come."
Of course, it's possible DTE's plans for a gas plant have less to do with the need for gas power generation than with the fact that its subsidiary has a 50 percent stake in the Nexus pipeline slashing its way through Washtenaw County right now. Having a state-of-the-art gas plant screwed into a dedicated pipeline is like building a hotel on your land in Monopoly.
In fact, that situation could pose a conflict of interest and skew it toward fossil fuels. As
James Clift, policy director for the Michigan Environmental Council, told the Energy News Network
: "When an affiliated company is looking to make money off of a natural gas pipeline, we're worried that this is basically biasing the company in favor of natural gas." In other words, it's a recipe for a company to reject renewables and energy efficiency.
When the conference was done, representatives from the Michigan Environmental Justice Coalition, Sierra Club, Natural Resources Defense Council, and Environment Michigan marched over to DTE Energy. Even though they were polite and gracious about wanting to give the company the 10,000-name petition, security at the front desk seemed unprepared for the video cameras and the crowd of environmentalists.
Perhaps they'll be more receptive to the petitioners' complaints than the camera-shy security guards seen in the video below.
Stay on top of Detroit news and views. Sign up for our weekly issue newsletter delivered each Wednesday.