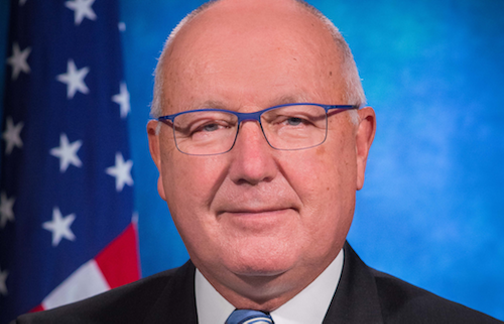 Like a lot of right-wing nut jobs, Michigan politician Pete Hoekstra has a strange relationship with the truth. A less tactful publication might even accuse Hoekstra of "making shit up" — but let's just say the Michigan GOP politician hasn't been demanding when it comes to requiring proof to support some of the tall tales he tells — especially those about "extremist Muslims."
For instance, in 2015, Hoekstra had claimed that Muslim extremism was so rampant in his native Holland that there were "no-go zones" where cars and even politicians were "being burned."
This story was recalled
last month, when a Dutch reporter buttonholed Hoekstra
, picked by President Trump to be ambassador to the Netherlands, and asked him about the statement he made. Hoekstra denied having made the statement, and then when confronted with the fact that he had made the statement, insisted that he was still within his rights to deny having made the statement.
Well, yesterday was "Hokum" Hoekstra's first day on the job, and his interview with the Dutch press didn't go so well. All they wanted to ask him about was the false statement about "no-go zones" and which politician had been burned by Muslim extremists. Apparently, Dutch reporters have actual functioning crap detectors and couldn't believe the American politician was denying the obvious truth so brazenly in front of them.
So make the popcorn and have a look: Here's the initial coverage of Hoekstra's first horrible day in office. Courtesy of these newspapers:
The Chicago Tribune
The Washington Post

CNN


CBS News


The Baltimore Sun
Huffington Post

The Guardian