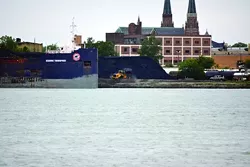 It was good news, bad news sort of day on Tuesday for those concerned about the controversial piles of petroleum coke being stored at two locations alongside the Detroit River.
The good news: An official with the Nicholson Terminal & Dock Co. told members of a Detroit City Council committee that the company had decided to stop storing petroleum coke, also known as petcoke, on Port of Detroit property.
In fact, the last of the material — a byproduct of refining bitumen from Canadian tar sands deposits — has already been loaded onto ships and hauled away. All that remains is cleanup of the site near W. Jefferson Avenue and Clark Street in southwest Detroit.
"We re-evaluated the situation … and decided to concentrate on our core business," said Patrick J. Stutka, treasurer of the company, which provides stevedoring, terminal, warehouse, and vessel repair services.
The bad news, at least from the perspective of those opposed to having any of the coal-like material along the river, is that a larger pile of the stuff will remain near the intersection of Fort Street and Rosa Parks Boulevard.
Requisite permits from the city and state had not been obtained prior to storing the material at either site. Despite protests from area residents and environmental activists, the material will remain at the Rosa Parks location while the company responsible for it, Detroit Bulk Storage, completes the permit process.
A representative of the city's Buildings, Safety Engineering and Environmental Department told members of the council's Public Health and Safety Committee, that the mound of petcoke, which reached a height of three stories or more, had been cut roughly in half.
One issue that remains is dust blowing off the pile. Detroit Bulk Storage has begun spraying an epoxy-like substance on the massive mounds of petcoke to cut down on the amount of fugitive dust. One resident we talked with for our recent cover story on the issue confirmed that the amount of dust has been reduced — but not eliminated.
McKenzie Duke, who lives in a loft adjacent to the site where the petcoke is stored, says that dust remains a problem when the material is being loaded and unloaded.
To address that problem, state Rep. Rashida Tlaib (D-Detroit) has introduced legislation that would require petcoke to be transported inside enclosed structures and vehicles.
The petcoke is coming from Detroit's Marathon oil refinery. It is reportedly being purchased by Koch Carbon, a company owned by billionaire industrialists Charles and David Koch.
Curt Guyette is Metro Times news editor. Contact hi at 313-202-8004 or [email protected]