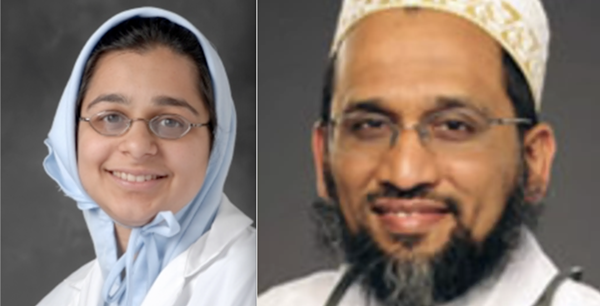 In April, two local doctors were accused of performing female genital mutilation on patients as young as 7.
Dr. Jumana Nagarwala and Dr. Fakhruddin Attar were both arrested in April after an alleged victim told FBI agents her parents brought her and another girl to Detroit for a "special girls trip," but she said she was taken to the clinic with her friend because their "tummies hurt" and that the doctor would perform a procedure to "get the germs out."
An investigation has led authorities to surmise that this is not an isolated incident, alleging that as many as 100 young girls have undergone this illegal procedure in the last 12 years.
On Wednesday, the
Detroit Free Press
reported Assistant U.S. Attorney Sara Woodward used that information in an attempt to convince a judge to keep Attar and his wife, who allegedly held the victims' hands during the procedure, locked up while they await trail, which is set for October.
The couple also have a minor daughter, and the state is seeking to terminate their parental rights.
Nagarwala and Dr. Attar could receive life in prison, if convicted, and Attar's wife could be sentenced to 20 years in prison, but those penalties would only come if they are convicted of transportation of an individual with intent to engage in criminal sexual activity, not for female genital mutilation.
But, amid the investigation and impending trial, the Michigan House of Representatives has approved a package of bills to strengthen penalties for female genital mutilation,
MLive
reports. This legislation would make by a maximum of 15 years in prison. The conviction currently carries a federal penalty of up to five years in prison and a $250,000 fine.
The legislation would also increase the statue of limitations — which is currently a mere two years and falls under the pretense of medical malpractice — and would allow victims who underwent the procedure as minors to file a civil lawsuit until they reach the age of 28.
According to MLive the legislation would also permanently revoke the health care license of anyone convicted of conducting female genital mutilation.
and require the "development and administration of an educational outreach program by the Department of Health and Human Services to — at a minimum — inform the public of the health risks and emotional trauma inflicted by the practice of female genital mutilation and criminal penalties for FGM," according to an analysis by the nonpartisan House Fiscal Agency.