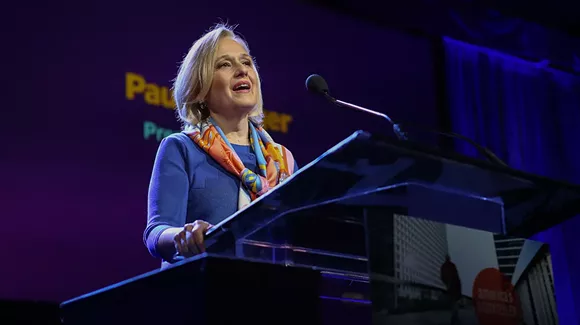 Following President Donald Trump's proposed funding cuts to the Corporation of Public Broadcasting, PBS CEO Paula Kerger will speak at the Detroit Economic Club today in support of public media.
The event will be streamed
live online
by Detroit Public Television.
According to a press release, Kerger will discuss how PBS, often referred to as "America's Largest Classroom," is working with stations like DPTV. Last year, DPTV opened a Detroit bureau, and has employed a team of reporters and producers to engage the community and
report on Detroit
.
The choice to speak in Detroit could very well be in reference to
remarks made by White House budget chief Mick Mulvaney earlier this month
.
Speaking on MSNBC's Morning Joe, Mulvaney said, "When you start looking at the places that will reduce spending, one of the questions we asked was 'Can we really continue to ask a coal miner in West Virginia or a single mom in Detroit to pay for these programs?' And the answer was no."
The White House formally revealed its budget proposal earlier this month that would cut funding for Corporation of Public Broadcasting, which supports PBS and NPR. The cut would save the government $445 million, or 0.005 percent of the entire federal budget.
As other have pointed out
, Trump himself has spent $15 million traveling to Florida during the first month of his presidency.