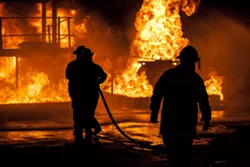 Good news for Detroit firefighters.
Mayor Mike Duggan, Fire Commissioner Eric Jones and Detroit Firefighters Association President Mike Nevin announced Friday morning that, going forward, those with a first responder medical license will be entitled to a 4 percent raise,
reports The Detroit News
.
The salary hike is being celebrated as a big and necessary win, considering the fact that wages in the department were cut by 20 percent when Detroit underwent its bankruptcy.
It will supplement an already promised raise of 2.5 percent for 2016-2018 and 3 percent for 2019-2020.
Nearly half of Detroit's 892 firefighters have their first responder medical license; however, it is expected that all will by the end of 2016.
With a certification, firefighters can administer pre-hospital care — an important move, according to the
Detroit News
, which points out that this "more effectively supplements Detroit Emergency Medical Services, as it doubles the city's available emergency medical units on the street."
Raises are expected to take effect in August, after being approved by the firefighters' union and City Council.
A common refrain throughout Friday's press conference, according to the
News
, is the fact that Detroit firefighters, who currently make a median income of $55,000, fight more fires but make less money than those in surrounding cities. This fact is viewed as confirmation of the importance of the raise, but also acknowledgment of the hard — and dangerous — work at hand.
As
Motor City Muckraker
previously reported, the city has routinely sent defective rigs into fires. According to journalist Steve Neavling, between Jan. 1, 2014 and July 30, 2015 47 people were injured or killed due to defective rigs. Last month — a year after the
MCM
investigation came out — the city put out RFPs for new rigs.