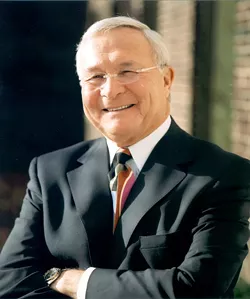 Officials from metro Detroit's Regional Transit Authority pushed back Friday against criticism of a public transportation plan by executives of Oakland and Macomb counties, following a decision to delay a vote on whether to ask voters in November to support the proposal.
The authority's board was expected on Thursday to send a ballot proposal to voters that seeks a $4.6 billion tax millage, over 30 years. The RTA is seeking to use the funds for a massive public transportation effort: particularly, the construction of a new bus system and coordination of existing systems in the region.
But officials from Oakland and Macomb county took issue with provisions in the state law that created the authority, specifically that 85 percent of funds raised in an area must be subsequently spent in that jurisdiction.
"I cannot in good conscience support the current plan, which spends over $1.3 billion of Oakland County taxpayers' dollars over 20 years, but only gives our businesses, workforce, and residents a fraction of that back in transit services," Oakland County Executive L. Brooks Patterson said in a statement.
Macomb County Executive Mark Hackel said the plan "falls short" of his county's expectations, and added — in reference to the suburban bus system —that it's "difficult for us to support a more than $4-billion commitment over the next two decades which could negatively impact our county's longstanding commitment to transit, especially the SMART system."
The pair, in a joint statement, also said they were concerned about proposals to transfer oversight of the Q-Line streetcar — formerly known as the M-1 Rail line — in Detroit to the RTA. The executives also requested changes in the RTA's plan to describe how the authority will deal with reductions in general fund subsidies or failed millage renewals.
"In other words," they said, "SMART, Macomb and Oakland counties cannot be left holding the bag if there is a decline in other revenue sources."
The RTA's chairman and chief executive officer fired back on Friday in a separate statement, saying they were "disappointed" by Hackel and Patterson's statement.
"For nearly 50 years, our region — alone in the country — has been unable to come together to deliver the kind of comprehensive regional transit system needed to expand access to jobs; provide independence for seniors and individuals with disabilities; and enable us to compete with vibrant regions across the country for investment and growth," said the chairman, Paul Hillegonds, and CEO Michael Ford.
The 85 percent rule is used to comply with state and federal law, the statement continued, and the level of new transit investment that benefits each county in the RTA — Wayne, Oakland, Macomb, and Washtenaw — "far exceeds its millage contribution."
"The RTA is required to adopt a budget annually that must comply with state law, which includes the 85 percent return on investment requirement," Ford and Hillegonds said. "The RTA will not adopt a budget that is not in compliance with the law."
The authority's top officers also countered that funding for other transit systems won't be negatively impacted, and said the transit plan is "straightforward and detailed, specifying what each county will receive and win." The transit plan would offer direct transit connections to over 900,000 jobs throughout metro Detroit, they said.
"The great disappointment if we are unable to go forward is that, on these most fundamental and challenging issues, the RTA plan gets it right," Hillegonds and Ford said in the statement. "To the extent there are open issues, it is because we are off by an inch, not a mile. Rather, the gulf will be one of trust. If we cannot bridge this and go forward together, it will signify not that the RTA plan is deficient, but something much deeper about our capacity to function as a region. We will fall further behind, and this we will do together."
The contentious rhetoric isn't unusual for a region that has long-scorned building an effective, mass public transit system. The current transit systems are frequently criticized for lack of connectivity and options.
The RTA itself had a rocky launch. The state legislature appropriated a minimal amount of operational funding from the outset — the authority, for example, didn't launch a website until nearly two years after it was created — and its first pick for CEO backed down after initially accepting the job.