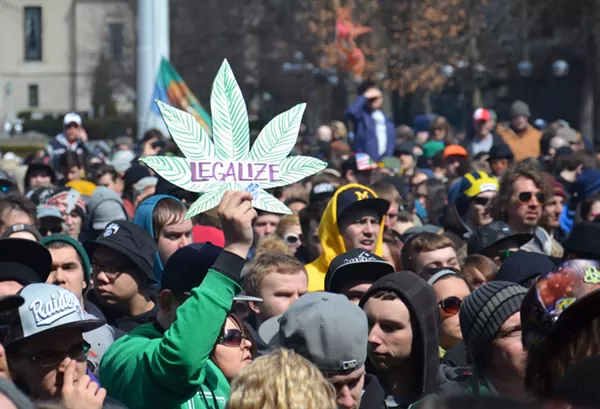 For our latest installment of
political action committees with funny names and noble missions
, we bring you Pass the Weed PAC, a PAC designed to support cannabis-friendly candidates in Michigan.
Why do we need candidates who are pro-marijuana when
many polls suggest Michigan is poised to free the weed
through ballot initiative Nov. 6, you ask? PAC founder Elizabeth Ratzloff, a 29-year-old community organizer, says one needs to look no further than
the way the state's politicians, prosecutors, and judges handled the rollout of medical cannabis
after it was legalized by voters in 2008.
"We did not have allies to uphold the intent of the initiative," Ratzloff says. "At first there were gray areas, and law enforcement and judges were interpreting the ballot initiative differently and there was some confusion."
It took until 2016 for the Republican-led legislature to bring any clarity to the situation, after an eight year-period that saw numerous arrests of patients and caregivers. The medical licensing framework they created, however, has come with its own set of problems.
"Now there's a [licensing] board that's governor-appointed and that process has been extremely slow for issuing licenses, so people who've had their businesses in communities for nearly a decade now are going kind of month-to-month waiting to see if they're going to have their license approved and they're not sure if they're going to have to close as the
deadline keeps getting moved
," Ratzloff says. "There's also a lack of transparency as to who's getting approval and who's not and why."
Now, with recreational legalization on the table, Ratzloff says the PAC will focus on electing leaders who want to expunge the records of people previously convicted of non-violent marijuana offenses — an issue the legalization proposal does not address.
"We want to make sure that, [if passed,] the ballot initiative is implemented fairly by elected officials and we also believe any cannabis legalization or laws have to go hand in hand with criminal justice reform and social justice issues," says Ratzloff. "We want elected officials to put forth policies that would not discriminate against communities of color and low-income folks, and expunge records or release those who wouldn't have been breaking the law under this system."
An expungement bill that could help thousands of people convicted of non-violent marijuana offenses was
introduced this year
by state Rep. Sheldon Neeley, a Democrat from Flint.
Having the right leaders in place will also be important for ironing out issues surrounding marijuana use as it relates to employment and housing, Ratzloff says.
"We hope that elected officials, would work to help people in Michigan against housing and employment discrimination on the basis of marijuana use," she says. "We don't want someone to be fired from their job or discriminated against based on something they do outside of the workplace."
The marijuana legalization proposal on the Nov. 6 ballot would:
• Legalize the possession and sale of up to 2.5 ounces of marijuana for personal, recreational use for people over the age of 21. Individuals could keep up to 10 ounces of marijuana at home.
• Put a 10 percent excise tax on marijuana sales at the retail level, in addition to the state's 6 percent sales tax, putting those revenues toward schools, roads, and communities and counties that allow marijuana businesses.
• Let communities decide whether to allow marijuana businesses.
• Require marijuana to be tested and safely transported throughout the state.
Stay on top of Detroit news and views. Sign up for our weekly issue newsletter delivered each Wednesday.