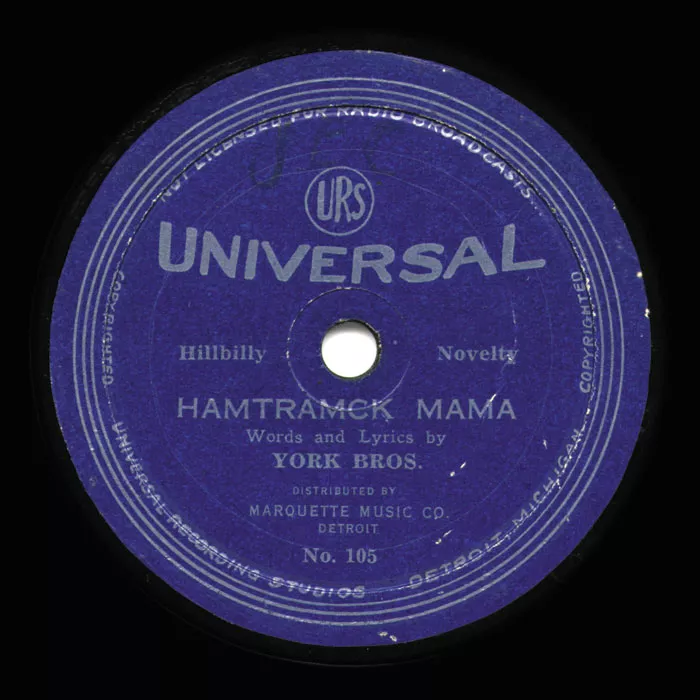 For more Detroit country music talk, listen to our podcast (here) featuring a two-hour discussion about Maki's book, with selections of music from such artists as Buster Turner & the Pinnacle Mountain Boys, Rufus Shoffner, Earl & Joyce Songer, the York Brothers, Chief Redbird, the Silver Sage Buckaroos, Skeets McDonald and Tommy Odom, among others. Also check out a slideshow of photos from the (here).

MT: Tell us about the type of people who made Detroit country music.
Maki: A lot of these bandleaders and musicians were working independently in the nightclubs and on radio and television. They weren't associated with any particular labels that put them over all across the country, but a number of them did have some good sellers here in the Motor City.
MT: And a lot of these guys, you find these records by guys you really like, and you find out they had this whole other life, as a bandleader or a DJ or a promoter of package shows …
Maki: And a lot of the guys worked in the factories up here too. They'd work by day and play the clubs at night. Some of the earliest fellows we researched were doing really well as local radio stars. They'd play nightclubs and then they'd advertise their performances on radio during the day. Mountain Red [aka Robert Ford Hogg] comes to mind. He was very popular. And also the York Brothers.
MT: I'm glad you brought them up. They play a big role in your book. Tell us a little bit about those guys. They influenced everyone it seems.
Maki: There were Detroit country musicians who came before them, but because of the Great Depression, there wasn't a lot of recording going on. And the first independent record labels in Detroit that I'm aware of were associated with the York Brothers, including the Universal Recording Studios on the east side and Mellow Record Company, also on the east side, based in a couple of music shops. The York Brothers came up here probably around 1938 or '39, from WPAY in Portsmouth, Ohio, which was actually the first radio station where they had teamed up together. George and Leslie York were raised in east Kentucky, born in Louisa. They actually had a brother between them who went into religious practice, but these two guys got together down in Portsmouth, and decided that their act was so good that they continued it for years. And they came up to Detroit, and one of the first records that I've been able to find on an independent label made in Detroit was the York Brothers' "Hamtramck Mama." The record was probably recorded in late 1939, and it's about a red-hot playgirl from Hamtramck, which was a city that was surrounded by Detroit that had been incorporated to keep Detroit from annexing it. And the city itself had a wide-open reputation during the '20s and '30s. I haven't been able to find the story behind the song, or talk to anybody who remembers the story behind the song, however, it was a big seller for the York Brothers, and for the labels that put them out. It was recorded three different times by the brothers, and stayed in print through the '60s.
MT: And was on jukeboxes here.
Maki: Yeah, that's what sort of spurred the revival of the record industry in Detroit: The jukebox operators. In fact, Marquette Music was the jukebox company that produced the York Brothers' "Hamtramck Mama" and put it in all their jukeboxes. I was able to find some Billboard reports suggesting that this record made an extra 15 percent in sales for them in 1939-1940.
MT: It was a huge hit. And it was banned in Hamtramck proper, famously by the mayor, who freaked out, but allegedly sold …
Maki: … 300,000 copies in Detroit alone.
MT: Which is pretty staggering when you think about it.
Maki: Yeah.
MT: You really spotlight the club scene in Detroit at the time. Right at the start of the book, you talk about William Levin, who had a vaudeville nightclub, and every day was just sitting there thoroughly depressed, watching all these factory workers walk by his nightclub and not come in. He decided he had to do something and there were all these Appalachians up here, the invisible half of the Northern Migration is what I like to call them, working in the factories and everything, and he started booking country music there, right?
Maki: Yeah, he booked the York Brothers, as a matter of fact. The York Brothers did a stage show, and then they hired a fiddle player, and they would do some square dances, and round dances, and that sort of thing, and put on a big show every night. And they filled the club! And that's what Levin was looking for. So he kept with it, through the war, hiring local acts to come in and play country music.
MT: How about Chief Redbird?
Maki: Yeah. Keith and I spent a lot of time trying to find his relatives in town. We knew that he died in the '70s because my friend had clippings of the chief from the '70s when the chief was trying to give the president a headdress that he'd made. To make a long story short we finally tracked down his daughter and she was very gracious with her time and her family's historical materials made for just a rip-roaring story that I was very happy to put in the book. This fellow surprised me like crazy when I found out that his history goes back to one of the first cowboy bands that ever broadcasted on radio in the '20s.
MT: I had no idea. I love this guy's music. He only made less than five records under his own name. Very obscure records. This guy goes so far back, and he's so connected to various people that later went on to become very well-known. And that's one of the great things about the book.
Maki: Not only is it a regional study, but people who read the book will find that it has to do with the greater tradition of country music. There's a lot of history that we found by investigating these fellows that worked and settled in Detroit that they participated elsewhere in the country. And Chief Redbird is one of them. He was born in 1899 in Oklahoma Territory, before Oklahoma became a state, and wound up working with Otto Gray's Oklahoma Cowboys during the '20s and '30s, and then wound up in Detroit doing his own shows and working in radio. I think when the war came around, he was working in a metal shop, but he continued entertaining until the end of his days in the '70s.
MT: And that leads into another facet of Detroit hillbilly music, Tazewell, Tenn. A lot of guys came up here from this tiny little area in eastern Tennessee called Tazewell, and Joyce Songer was from eastern Tennessee, and later teamed up with one of these guys, Rufus Shoffner, and made a lot of great records with him. He's kind of a towering, unique figure in Detroit country music as well. These guys all knew each other down there in Tennessee and they followed each other to Detroit.
Maki: And a lot of people came up from that area to Monroe, specifically. It's interesting to go back and listen to some of these histories, because a lot of people from certain parts of the country would come up to specific places. A lot of people from Arkansas wound up in Pontiac. Whole families would come up, or people who knew each other in the same little towns would come up and create a new community up here in southeast Michigan.