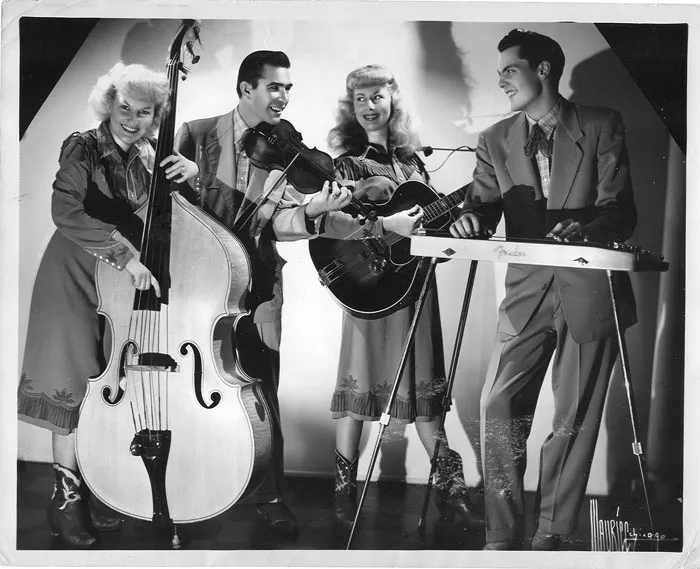 For more Detroit country music talk, listen to our podcast (here) featuring a two-hour discussion about Maki's book, with selections of music from such artists as Buster Turner & the Pinnacle Mountain Boys, Rufus Shoffner, Earl & Joyce Songer, the York Brothers, Chief Redbird, the Silver Sage Buckaroos, Skeets McDonald and Tommy Odom, among others. Also check out a slideshow of photos from the (here).

Ask the average person about Detroit music and you'll likely hear about the soul and R&B of Motown, the rock and roll of Bob Seger, the blues of John Lee Hooker, the proto-punk of the MC5 and the Stooges, or the techno revolution kicked off by such artists as Carl Craig and Derrick May. But mention Detroit country music and most people will draw a blank. The very idea of country music in a Northern city runs against the grain of conventional wisdom.
Yet there was a time, from the '30s through the '60s, when the Motor City was a hotbed of countrified creativity. And thanks to researchers Craig Maki and Keith Cady, that long-lost scene is now getting its due in the new book Detroit Country Music: Mountaineers, Cowboys and Rockabillies, out now on University of Michigan Press.
What set Detroit country apart? Like Detroit's soul and R&B, Detroit's country scene was a product of a massive wave of immigration from the South. Similarly, it took roots music and produced an updated, electrified, more eclectic sound imbued with many different influences. Now little-known, it was a pioneering scene that included electric guitar in its mountain music and bluegrass, jazz sidemen playing with country fiddlers, hot records with slap bass that presaged rockabilly, and even the occasional female bandleader. What's more, it had a gritty, raw and often randy side to it that seems particularly "Detroit."
Author Craig Maki was kind enough to share his time with us and present us with a trove of photos of the groups and musicians who created this groundbreaking country music scene. We're delighted to present this discussion of the new book Maki had with Metro Times writer Michael Hurtt, as well as an excerpt offering a taste of what seems to be the definitive history of Detroit country. —Michael Jackman
Part 1: Ghosts of a Long-Gone Scene
Metro Times: Your book is about Detroit hillbilly music and its history. Most people, when you mention there was a country music scene here in Detroit are usually somewhat surprised, because even though it's a music city, associated with a lot of different genres and great music scenes, people just really don't think about country as being big here, partially because we're up here in the North. But I think this book is really going to put this amazing slice of Detroit history on the map.
Craig Maki: Well, I hope so. That was my objective. And I think that growing up here in the suburbs, myself, I didn't discover it until I was in my 20s, and I met some older musicians who could tell me the stories. One thing led to another and eventually I started gathering enough research and then with my Friend Keith Cady, who also helped with research, we got a pretty good idea of how large the scene was here, back from the 1930s through the 1960s, which also coincided with a great migration to Detroit from the South of war workers, not only black workers, of course, which we've heard about through jazz and blues research, but the white workers who came up and brought their music and culture with them as well. And when I started looking into the music they recorded, I discovered records and records of all different styles of music through the years, including quite a large following of bluegrass, which is still pretty strong on the west side of the city.
MT: It's amazing. The bluegrass scene up here you could almost put it up against a lot of other places that you'd associate far more with that kind of music.
Maki: Absolutely.
MT: It really has stayed. The fact that so much of this history has vanished is sad.
Maki: Yeah, that's one thing I tried to preserve in writing this book. A lot of the sites around the city that were associated with country music during those decades are gone. I was just over at the site of 12101 Mack a few weeks ago to take a look at it and it's just in shambles, you know. The roof caved in and the walls are barely standing and it's just too bad. It was quite the hub of country music during the 1950s.
MT: Fiddler, bandleader and promoter Casey Clark did his weekly barn dance out of there, right? And over on the east side you had Vandewall's, you had the Torch, you had Ted's 10-Hi …
Maki: … Union Bar, St. Jean Bar, and along Mack Avenue there was O'Mack's, the Roosevelt …
MT: … in Southwest Detroit, West Fort Tavern was the big one, the Dixie Belle …
Maki: … Three J's, Rose Bar …
MT: … Charlie's, which is actually still there, amazingly. Sadly, not only are most of these clubs gone, in many cases the buildings are gone. It's sort of like when they bulldozed the historic black neighborhoods here, Paradise Valley and Hastings Street, and put the I-75 freeway right over it. They sort of did the same thing with the poor white culture here, but it's not really talked about as much, because it wasn't so bold and brutal. But if you try to go to these places, you realize, jeez, I mean, the neighborhood that most of these people lived in, like St. Jean Street, which was the main thoroughfare over there, it might as well not even be there anymore. There's not a single building, it's basically an industrial park with most of the area on both sides of St. Jean Street is just green space. It's not like there's even a building there, so it's really sad.
Maki: Yeah, there used to be storefronts all along East Jefferson where the Mellow Music Shop was and the Universal Recording Studio and a number of nightclubs and theaters. Those are all gone. I think if you go on Google Maps and punch in the address of the Mellow Music Shop on East Jefferson, you come up with a CVS pharmacy, and not much else around it.