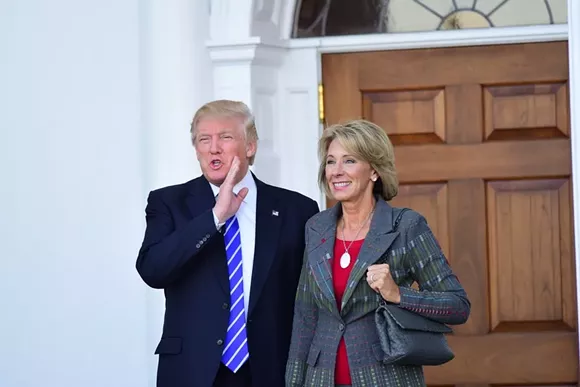 Despite getting
read to absolute filth
at her confirmation hearing earlier this month (seriously, "grizzly bears?"), a Senate panel on Tuesday morning narrowly approved Donald Trump's nominee for education secretary, Michigan billionaire Betsy DeVos, to proceed to a full floor vote later this week.
The U.S. Senate Committee on Health, Education, Labor and Pensions approved DeVos 12-11 in a vote along party lines. The usual critics voiced their concerns: Massachusetts Senator Elizabeth Warren said "It's hard to imagine a candidate less qualified or more dangerous" to be in charge of the U.S. education system. But even Republicans expressed their doubt this morning.
According to
MLive
, Senator Susan Collins of Maine said she was "surprised and concerned about Mrs. DeVos' apparent lack of familiarity" with the Individuals with Disabilities Education Act, which guarantees education for children with special needs. Meanwhile, Alaska Republican Lisa Murkowski expressed concern about DeVos' lack of knowledge about rural schools, saying "I would not advise that she yet count on my vote."
To be confirmed, DeVos needs to win a majority vote in the Senate. The final vote is expected to be close, and as
The Detroit News points out
, a defection of just three Republican senators would derail her nomination.
A vote date has not yet been scheduled, but it is expected later this week.