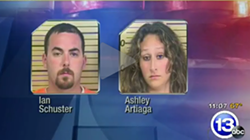 Michigan-Ohio State rivalries have been known to get pretty heated, but last weekend football fandom was taken to a new level when a brawl broke out between opposing fans aboard a ferry in Port Clinton, OH.
25-year-old Ashley Artiaga and her boyfriend, 31-year-old Ian Schuster, were arrested early Sunday morning after the duo began arguing with another couple, who were complete strangers before the incident, about the Wolverines and the Buckeyes.
"They were arguing, cursing at each other," Ben Freeman, a witness from Cincinnati told
13ABC
. "As the argument went on, the Michigan fan's girlfriend stood up, pulled the hair of the Ohio State's fan's girlfriend … the wife, actually. He tried to defend his wife by shoving the Michigan fan's girlfriend. The Michigan fan stood up and tried to defend his girlfriend. And after that they mutually started to fist fight and swing on each other. It was crazy."
Apparently, this sort of thing isn't all that rare. "It happens," the owner of the Jet Express ferry said of the incident. "They get very passionate about their teams. We haul a lot of people, bring a lot of people together. This was like 1:42 a.m., so I'm guessing there may be a few drinks involved in this one."
Artiaga and Schuster were booked and then released from the Ottawa County Jail.